Three Legged Thing on top!
Editor - 23rd January 2014
Posted on
Categories
Off The Press
Folks from the lab at Three Legged Thing have just told us they've been voted Tripod Of The Year by PDN.

It was only just about 12 months ago that they received their first award: Innovative Imagine Product of the Year 2013.
"We are delighted and very proud to announce our second annual Award in consecutive years – presented to us by publishing giants, Nielson. PDN Magazine put Brian through a rigourous exam and came out smiling." You can read PDN's review here: http://www.pdnonline.com/gear/Tripod-Review-3-Leg-7437.shtml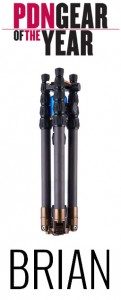 As well as receiving the coveted Tripod of the Year award from PDN, 3 Legged Thing tell us they've also received the Best Miniature Ballhead Award from the worlds oldest photography magazine, Amateur Photographer.
"Our AH0 Heads weigh it at just 272g (9.6oz) and hold a whopping 30KG (66lbs). With specs like these, we are the market leaders in product design and innovation."