The New Nikon Df: Photography at its Purest
Editor - 5th November 2013
Posted on
Categories
Off The Press
Nikon has announced the Df, a new 'pure photography' high end D-SLR with a retro design that features technology from the latest professional models.
Equipped with the same image sensor as Nikon's flagship D4, it offers uncompromised dynamic range and phenomenal light sensitivity. The Nikon Df is the lightest of Nikon's current FX-format models, yet features the durable build and reliable operation that you'd expect from a high-end Nikon camera.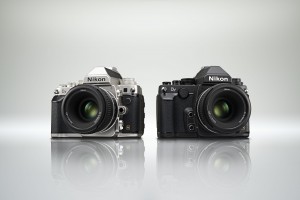 Hiro Sebata, Product Manager at Nikon UK, says: "The concept for this camera was based on the emotion of photography and will appeal to passionate photographers who enjoy pure photography and cherish their cameras, as well as their images, old and new.
"The stylish, classic design of the new Df reflects Nikon's heritage, whilst its capability to produce flagship quality images allows photographers to focus on the creative aspect of photography. This new camera is in a class of its own; it's an emotive product."
At the heart of the Df is the same 16.2-megapixel FX-format CMOS sensor and EXPEED 3 image processor found in Nikon's professional flagship camera, the D4. Such a powerful combination of professional grade technology ensures the Df delivers superior image integrity under a broad range of lighting conditions. Photographs boast faithful, well-saturated colour and natural depth, even when shooting at the high end of the ISO range, which extends to a phenomenal ISO 204,800 (equivalent).
The Nikon Df may incorporate looks from Nikon's iconic 35mm film SLRs, but it's built to handle the demands of modern digital photographers, boasting the kind of rugged build and superior ergonomics that has made the Nikon name synonymous with durability and reliability. Crafted to respond perfectly to your command, this camera will delight the senses of any photographer who's passionate about still images—and cameras.
Vintage glass: Compatible with non-AI lenses
Taking its dedication to pure photography a step further than any other D-SLR on the market today, the Df boasts a unique collapsible metering coupling lever that enables even vintage non-AI NIKKOR lenses to be attached directly to the camera. Nikon's lenses are renowned the world over for their optical superiority, and NIKKOR celebrates its 80th anniversary this year. Photographers using the original F-mount NIKKOR lenses broke boundaries, and those same lenses remain well-loved by many today. But it's never been possible to use them easily with a modern D-SLR, until now.
When shooting with a non-AI lens in A (Aperture Priority) or M (Manual) mode, the Df allows full-aperture metering—equivalent to that of AI lenses. Lens characteristics such as focal length and the widest aperture setting can be easily defined via simple camera settings, enabling the camera to recognise the aperture setting and calculate correct exposure.
As an FX-format camera, the Df is fully compatible with Nikon's extensive range of NIKKOR lenses, and the camera comes packaged together with a special edition of Nikon's popular AF-S 50mm f/1.8G NIKKOR lens. Now boasting a retro look-and-feel to complement the Df camera body, this lens is one of the most popular primes in the Nikon lineup, thanks to its compact, lightweight build and its fast f/1.8 maximum aperture.
In addition to NIKKOR lenses, Nikon's vast array of photographic equipment and accessories can help you realise your ideas in countless ways. For photographers who want to get creative with light, Nikon's industry-leading Creative Lighting System includes a range of versatile Speedlights that offer extensive opportunities for on-camera or wireless flash photography. For image transfer, the Nikon WU-1a Wireless Mobile Adapter enables photos to be transferred straight from the camera to a smart device; and support for remote shooting comes via Nikon's WR-R10 Wireless Transceiver and WR-T10 Wireless Transmitter, which let you control key camera functions from a distance even if there are objects between yourself and the camera.
Nikon's new Df will be available in black or silver RRP: £2749.99 from 28th November 2013
I AM PURE PHOTOGRAPHY
Nikon unveils The New Nikon Df: a retro-styled high-end D-SLR