Tell a Photo Story
Editor - 11th November 2013
Posted on
Categories
Off The Press
For the consumer who just doesn't know what to do with their thousands of digital images…
Magix AG has introduced Photostory 2014 Deluxe. New features include the new 4K Ultra HD format which allows the user to view  videos twice as big and 4 times sharper; new templates, a HDR effect to optimise footage and a new interface with touch elements for better fingertip slideshow control.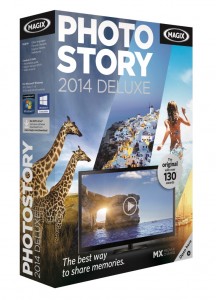 Magix Photostory 2014 Deluxe enables users to organise their images and videos into slideshows and add their own personal touch with text, music and spectacular effects in HD, 4K and 3D. Preloaded templates make it even easier.
The new Import Wizard improves organisation of images without the need for searching, and includes helpful colour highlighting of various media types, dates and time. Support of over 400 RAW formats and support of the AVCHD Lite video format is also featured.
Magix Photostory 2014 Deluxe is available now, MSRP £69.99
Tell a Photo Story