Swann's New Wireless Network Camera
Editor - 8th May 2013
Posted on
Categories

Off The Press, Pixel TV
SwannSmart™ Wi-Fi network camera enables remote viewing with iOS, Android and BlackBerry devices.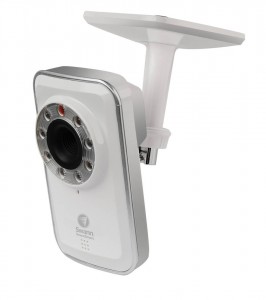 Swann, a global leader in do-it-yourself security monitoring solutions, proudly debuts its new wireless network camera: SwannSmart™. The SwannSmart Camera is an easy to set up monitoring solution that allows you to see and record what's happening via your existing wireless network with 24/7 viewing on your smartphone or tablet. What makes the SwannSmart different is that it streams live video and images directly to Secure Cloud Storage. The SwannSmart camera is powered by iSecurity+ to stream encrypted live video to a secure cloud without needing to be connected to a computer.
You can receive push notifications on your Smartphone or tablet when motion is detected. You can also record video or stills to your handheld device or stills to your SwannSmart cloud account.
SwannSmart puts you in control by allowing you to view, manage and share your camera with loved ones on your iPhone, iPad or Android device. If you are viewing on computer it's compatible with both PC and Mac.
See what's happening during the day or in low light with infrared night vision up to 12 feet. You can also conveniently hear what's being said via the built in microphone. It's a security system that's easy to set up, affordable and hassle free. Perfect for keeping an eye on your baby, young family, an elderly loved one, your pet, your home or a small business.  The SwannSmart WiFi Network Camera from Swann is an easier and smarter way to protect what matters most.
Main Features:
Wi-Fi Internet camera packed with safeguard features for home & business seurity
SwannSmart app by iSecurity+ for viewing on PC, Mac, tablets & Smartphones including iPhone, iPad & Android devices
Easy plug-&-play setup with free app download from the App Store or Google Play for mobile live viewing & in-app video recording to a 3G/4G device
Capture events as the happen to SwannSmart Secure Cloud (the first month is free with a  monthly fee applying thereafter) & know what's happening via mobile push notification
Perfect for low light scenarios, thanks to 8 infrared LEDs
Built-in microphone captures audio
Mount the camera on any flat surface, upside down, on the ceiling, or on a wall
Availability:
The SwannSmart camera is available at RRP £89.99
Watch the demo video here:
http://www.youtube.com/watch?v=1zPIHcjHbSM&feature=youtu.be