Sony Takes Smartphone Photography to a New Level
Editor - 8th October 2014
Posted on
Categories

Features, Interviews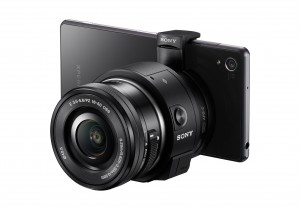 Will the new QX1 and QX30 smart lenses gain traction for the Christmas period? Here, we speak to Sony's New Business Product Manager Simona Gaia Bara to find out whether smart lenses really are the next Big Thing in smartphone innovation. 
This month Sony reported an expected full-year loss of 230bn yen (£1.3bn), marking the company's fifth net loss in six years. The loss, which is almost four times the £280m predicted earlier this year, has been attributed to Sony's struggling mobile division – now set to be cut down and streamlined with focus on premium devices.
Innovation in new products is now paramount for Sony – as Akira Amari, Japan's economy minister and former Sony employee said in a recent press conference: "Sony should never forget about the spirit of the founder, which means that it is always from Sony that innovation comes, and is dispatched to the world. So for Sony, innovation is the raison d'être, you should never forget that."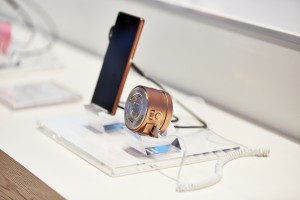 One innovation in recent years has been the smart lens: a high quality lens that clips to the front of your smartphone and connects via WiFi or NFC. In September, Sony launched a successor to its QX series of smart lenses, this time giving it a 20.1mp APS-C Exmor sensor – putting it on par with DSLR cameras. The new QX1 is also compatible with a range of interchangeable lenses – enabling smartphones to take higher quality images than ever before.
We recently spoke to Sony's New Business Product Manager Simona Gaia Bara to find out whether smart lenses really are the next Big Thing in smartphone innovation.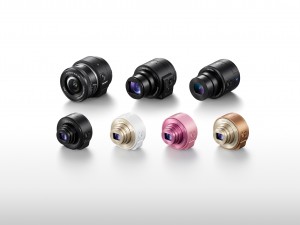 "Sony's first smart lenses, the QX10 and QX100 did well in the UK, especially as Christmas gifts. We found this was a key line for the company during Christmas period last year. In fact, the lens style cameras have been one of our strongest lines for the last few months – they are selling as well as one of our DSLR cameras."
Sony hopes the new QX1 and QX30 will expand on this success, offering greater quality, greater zoom and, for the first time yet, the ability to attach other lenses. The QX1 is compatible with Sony's growing range of E-mount lenses, potentially attracting customers who already own a collection. The QX30 has 30x optical zoom aided by Sony's Optical SteadyShot technology. Clear Image Zoom even allows users to digitally magnify images to 60x without sacrificing pixel count. According to Simona, these higher end products will drive down the price of their predecessors.
" The QX10 will be cheaper than the QX1 and QX30 – we have the variation colours in pink and copper too for the QX10 this year, offering even more of an incentive to buy it.
"There has been a lot of positive feedback from retailers on the QX1," she added. "This technology is something that has not been thought of before, so they are certainly curious – it is always great to see new innovation in the market."
So what can retailers and counter staff do to sell the QX10 and QX30? According to Simona, Christmas is a key opportunity for this product.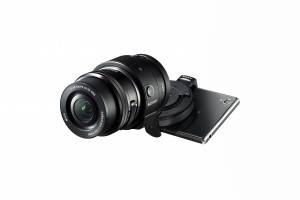 "With the QX30 and colour variants of the QX10 – they are definitely fantastic Christmas gifts initially for general smartphone users but beyond that, they are a fantastic piece of kit for all with an interest in photography, it has a wide audience," she said.
"With the entire QX range, especially the QX1, it is important to demo it as much as possible to show shoppers just how easy these devices are to use and how easy it is to share images. It is really important to get customers to see how they work and to really look at quality of pictures you can take."
It is also a great opportunity to stock compatible accessories alongside the product to boost profits, and also to show customers the Sony E-mount range to make them aware of all the shooting options available. Simona added: "The cases are great. We are also launching the free-shooting kit – enabling photographers to shoot from many different angles."
QX1 Top Selling Points
– 20.1mp APS-C type Exmor CMOS sensor – DSLR quality
– Compatible with E-mount lenses for a variety of shooting styles
– Bionz X processing machine to reduce blur
– Built-in flash
– Manual control for creativity
– NFC and WiFi for instant connection with smartphone
– Instantly view, share and edit images on smartphone screen
– Simple set up with PlayMemories mobile app
– Compatible with both Android and iOS
RRP: £249
QX30 Top Selling Points
– 30x optical zoom
– Sony G lens
– Optical SteadyShot
– Lock-on AS
– NFC and WiFI
– Simple set up with PlayMemories mobile app
– Compatible with both Android and iOS
RRP: £249