Sony Alpha A9
Editor - 3rd May 2017
Posted on
Categories
Uncategorised
Updated: We've had some extra hands on time with the Sony Alpha A9 and now can share sample images and more impressions on shooting performance.
Well that was unexpected.
It's a phrase we don't say often about the camera world, but Sony surprised us in many ways with the introduction of the A9. New cameras have always focused on resolution bumps, autofocus point increases and more numbers to make your head spin. The Sony Alpha A9, however, aims to make the final step towards a completely digital camera.
Over the years, digital cameras have steadily moved away from their analogue roots. replaced film with digital sensors, while did away with optical viewfinders and mirrors. Now the Sony A9 wants you to forget all about mechanical shutters.
At the center of the Sony A9 is the world's first stacked full-frame CMOS sensor, designed to be the fastest imaging chip ever created. Coupled with a dramatically improved electronic viewfinder and shutter, the Sony A9 pitches itself as the ultimate sports camera, able to shoot up to 20fps bursts.
That said, you'll have to pay dearly for such burst-shooting performance, with the Sony A9 retailing for $4,499 – that's about £3,520 or AU$6,000 based on a straight conversion, although it's expected to be nearer £4,500 in the UK.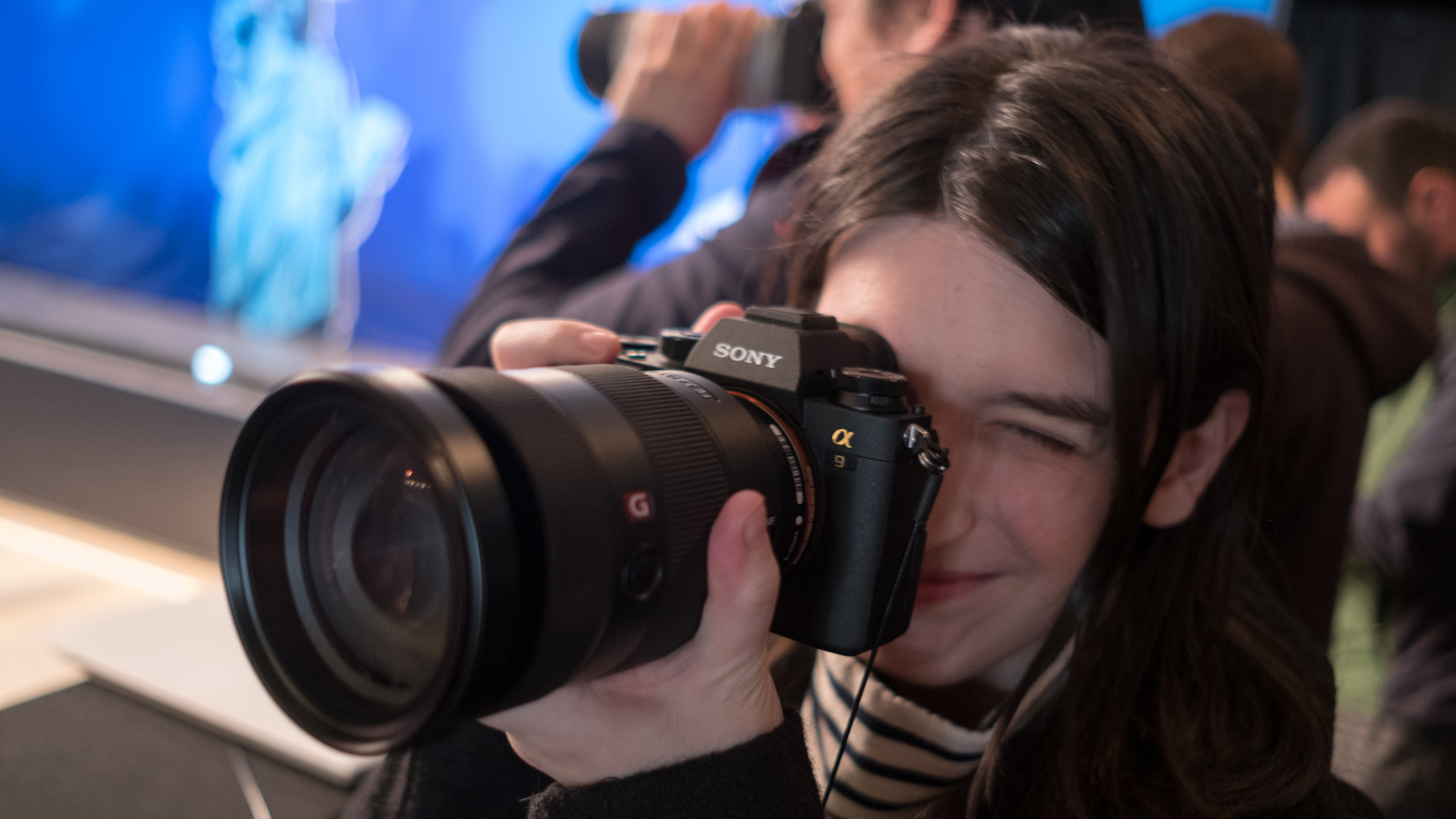 Features
24.2MP full-frame stacked Exmor RS image sensor
3,686K-dot Quad-VGA Tru-Finder with 120fps refresh rate
3.0-inch 1,440K-dot LCD screen
The key highlight of the Sony A9 is its 24.2 MP full-frame stacked Exmor RS image sensor. It's not a resolution monster like the Sony A7r Mark II's 42.4MP sensor, but that's because this camera was designed for speed.
The new stacked image sensor essentially takes on the architecture of Sony's mobile cameras. In this configuration integrated DRAM memory modules, a high-speed processing circuit and the Bionz X image processing engine are all lined up behind the image sensor. 
As Sony explains it, the Sony A9 can send imaging data through the sensor rather than around it. It's a lot like a processor architecture in which cores can easily share information directly and quickly.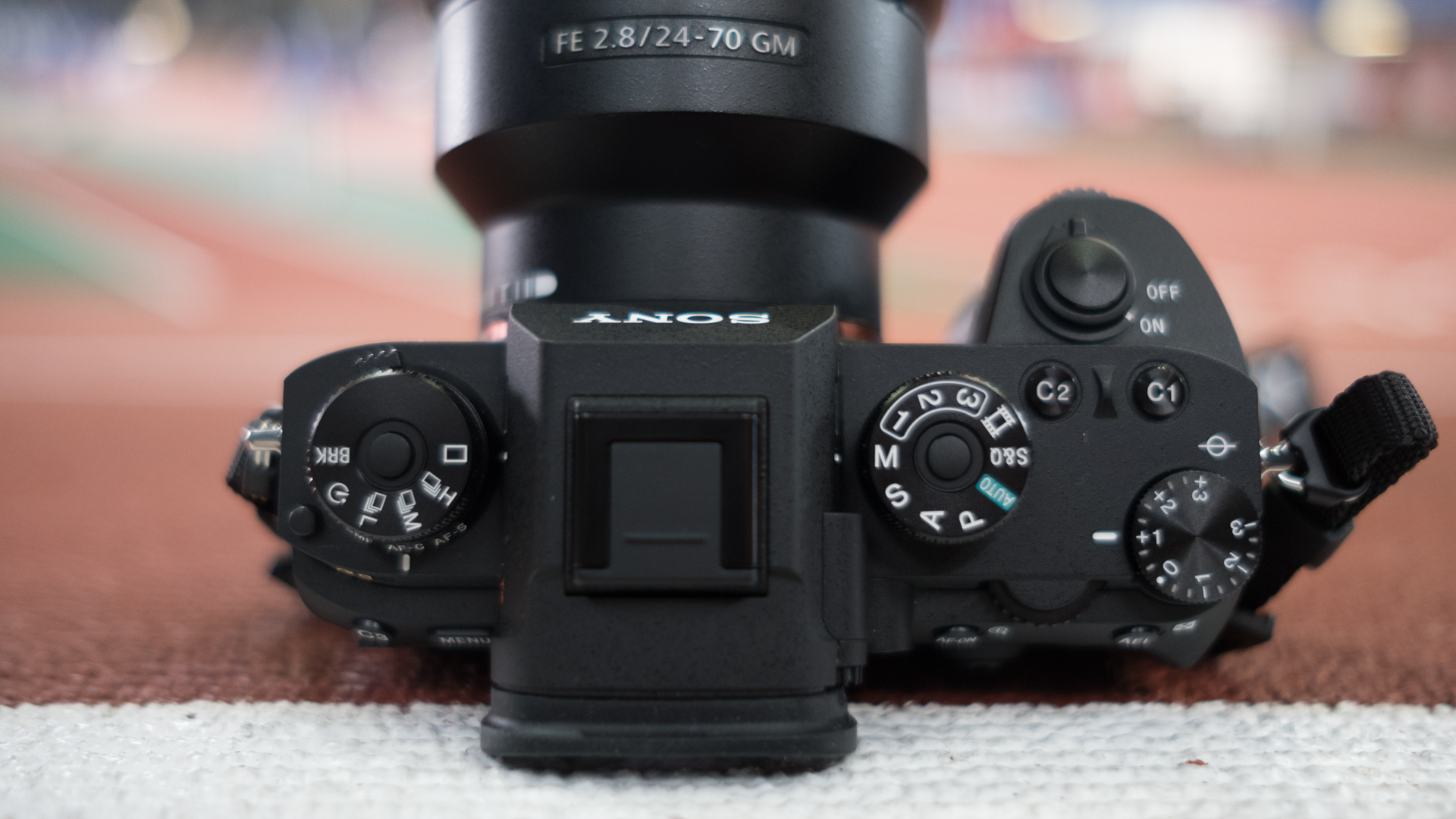 All this technical design results in a sensor that produces a 20 times faster data readout, which in turn enables the Sony A9 to shoot at 20fps for up to 241 raw or 362 JPEG images. 
The camera also uses all this power to create a blackout-free shooting experience when you're looking through the new 3,686K-dot Quad-VGA Tru-Finder. Which is another way of saying you can shoot sports and other types of action while still seeing the scene unfold in real-life, uninterrupted through the EVF. 
The Sony A9 also brings with it improved 4K video recording, using the full pixel readout of the entire sensor. Additionally, the camera can record Full HD at up to 120fps and a 100Mbps bit rate.
And last but not least, the image processor also corrects for the 'rolling shutter' distortion often created by electronic shutters. This usually occurs when the subject or shooter is moving as images are being built sequentially from top to bottom. The Sony A9 counters this effect by practically resolving photos instantly, while also applying distortion correction.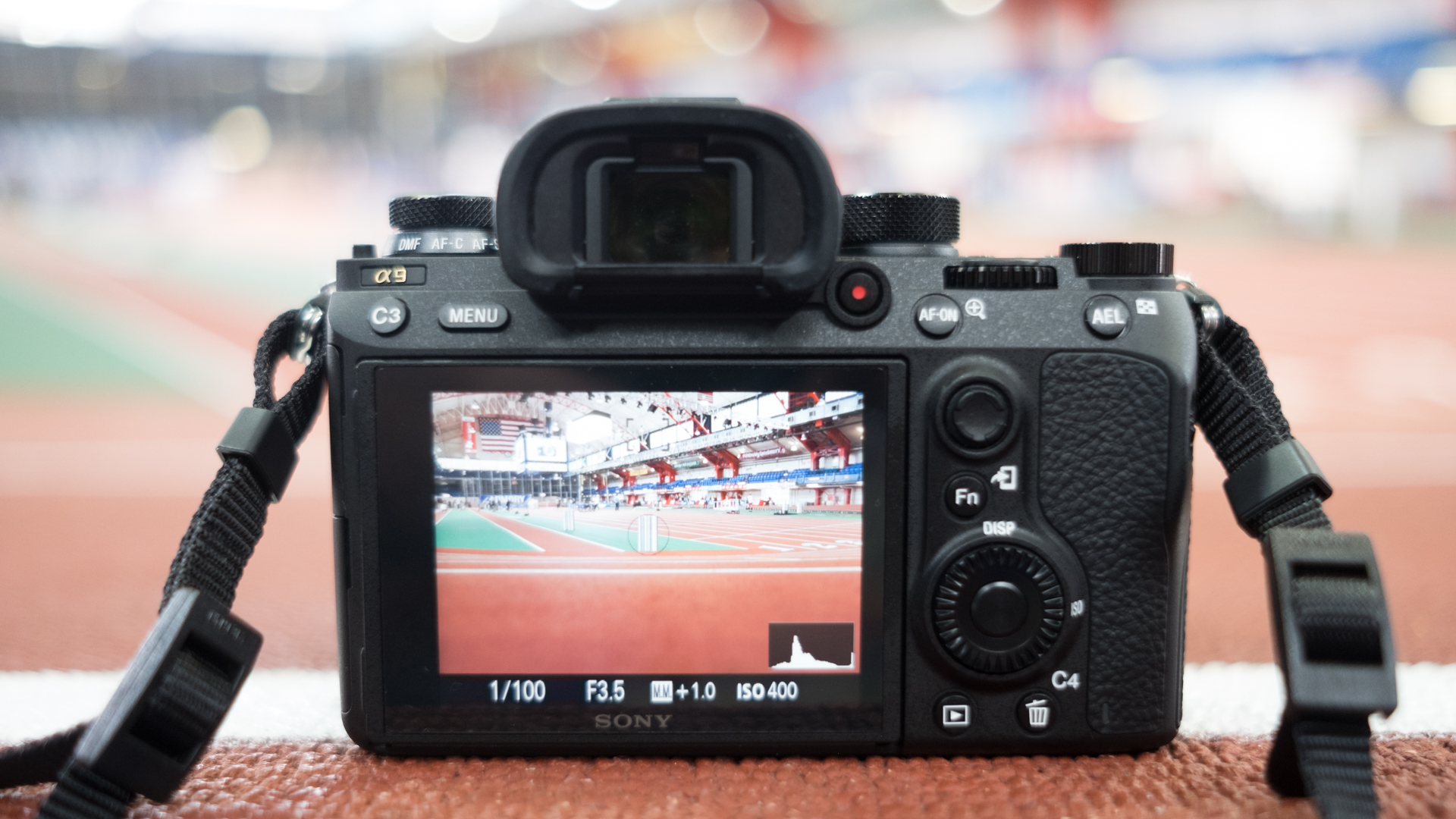 Build and handling
Magnesium alloy body
Dual SD card slots
673 grams
At first glance, the Sony A9 looks like a jumbo-sized version of the Sony A7 Mark II, but upon closer inspection there are many crucial additions. It's physically larger and about half a centimeter thicker than the Sony A7 line, thanks to the larger battery.
The controls have also seen a great deal of revisions – and if you've been crying for an autofocus selector on a Sony camera your prayers have finally been answered, with a new joystick located just to the left of the thumb rest.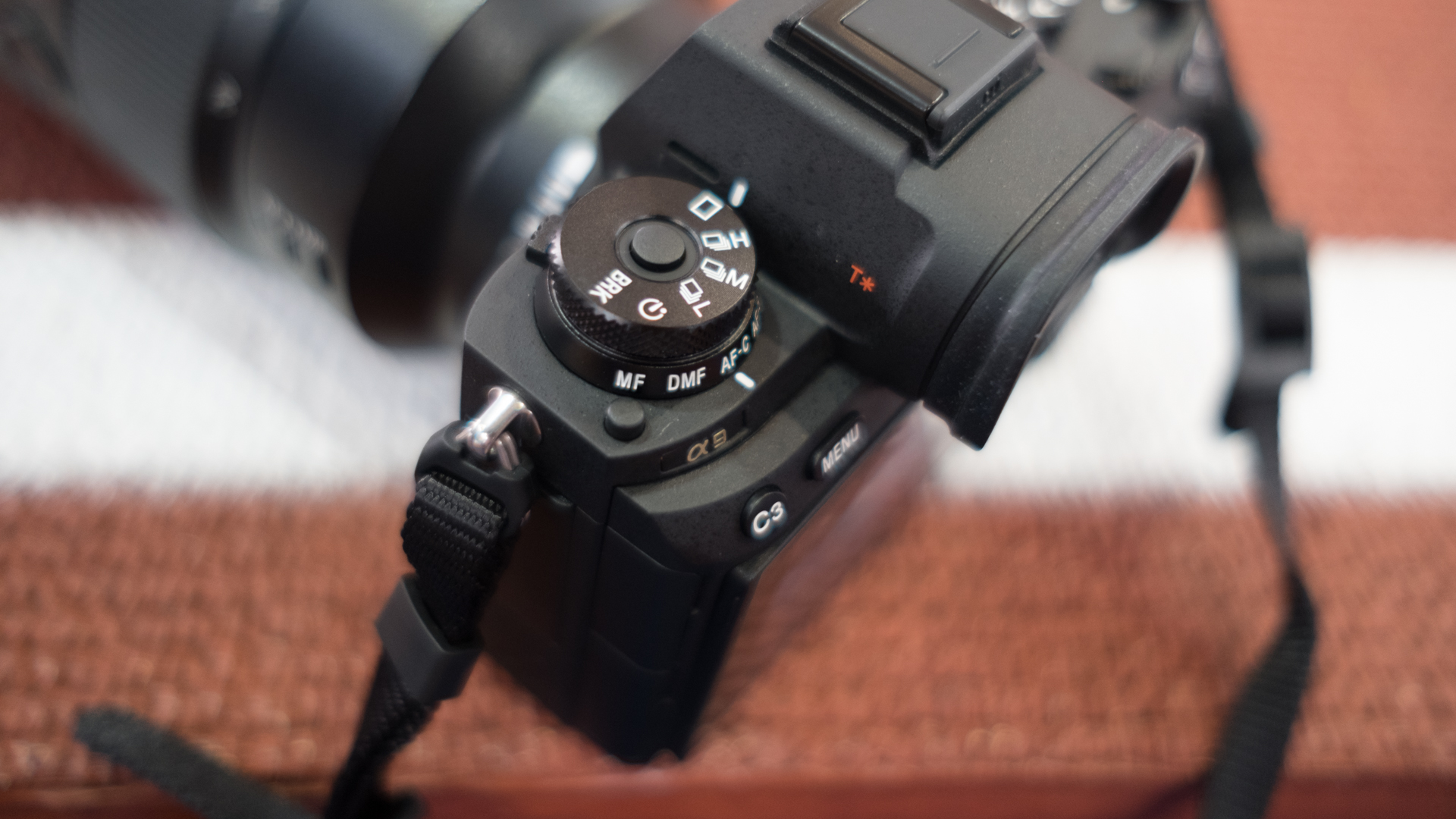 Likewise, the record video button is finally in a much more accessible place, rather than hanging on the side of the thumb grip like some sort of wart. Dual SD memory card slots are finally here as well.
The Sony A7 also introduces a pair of new control dials on the left side of the viewfinder, for switching between focusing modes and drive modes. The exposure compensation and mode dials remain the same, although the latter still includes a setting for 'Intelligent Auto'… on a $4,000 camera.
Autofocus
693 focal plane phase-detection AF points
60 AF/AE tracking calculations per second
Enhanced Eye-AF
The Sony A9 comes with an almost absurd 693 focal plane phase-detection AF points covering approximately 93% of the frame. Not only do you get full coverage, the autofocus system can make 60 tracking calculations per second.
During our hands-on time with the camera the Sony A9 instantly locked onto boxers, and we never lost track of our subjects even as they circled the ring. Likewise, we found tracking to be perfectly on-point while we followed  gymnasts performing their Olympics-inspired floor exercises.
On the our second day with the Sony A9 through a grueling battery of sports shooting tests and it performed stupendously. The camera locked onto runners, pole vaulters and long jumpers without nearly any protest.
There were a few times where the focus system would pin itself onto the wrong object or slip while quickly panning, but overall we would say it has a hit percentage around 90%.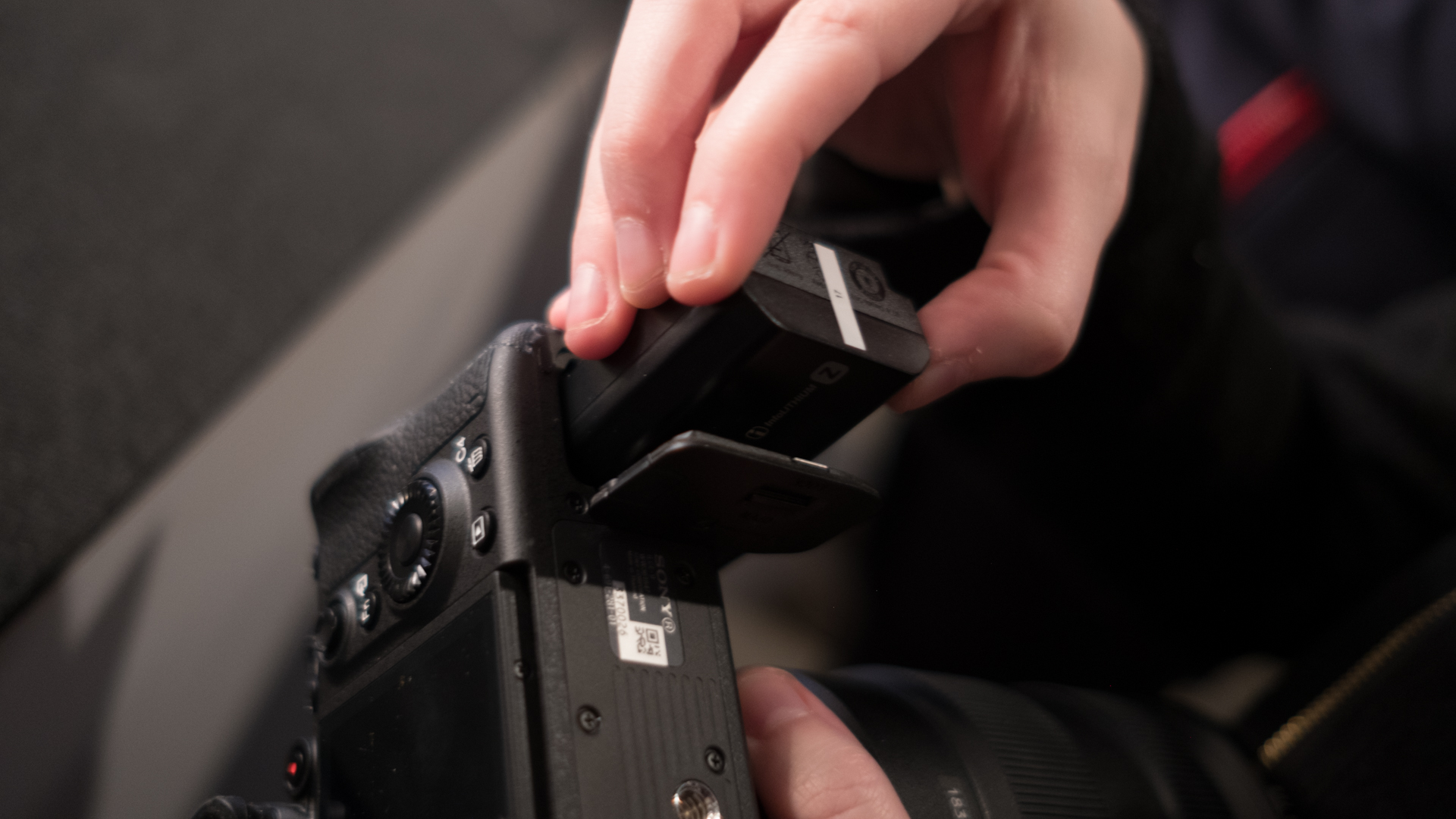 Performance
20fps burst shooting
241 raw/362 JPEG buffer
480-shot battery life
We've always been wary of using electronic shutters since rolling shutter reared its ugly head, but after using the Sony A9 we almost never want to hear that mechanical klack of a physical shutter ever again.
The Sony A9 takes an insane number of frames with the electronic shutter turned on. Out of curiosity we wanted to see how it would perform with the  exact same setting on a mechanical shutter and it felt like the camera was almost broken, taking half the number of frames and capturing only a portion of the action. 
Of course, this could be entirely due to Sony going with a basic mechanical element, while it focused on perfecting the electronics. Mechanical shutters also still have their place on this camera especially if you're working with strobes and flashes, which don't work at all with the electronic shutter on this pre-production model.
While we usually see burst performance take a hit with AF tracking turned on, the Sony A9 runs like a dream.
Better yet, Sony's new larger batteries are rated for over 500 shots, so you'll be able to shoot for roughly 2.2 times longer than the Sony A7 line allowed.
Image quality
Shooting with the right lens, the Sony A9 can produce some drop dead gorgeous images. The on-board 24.2MP sensor produces tack sharp images thanks in part to the professional-grade autofocus system. 
We also loved the vivid colors, though, the reds do become a bit overblown as they tend to do on many digital sensors. Of course, we're only looking at unprocessed JPEGs right now and we'll have to take the RAW files into the shop to see what the Sony A9 can really do.
Sony also setup an optimal shooting situation with massive light boxes illuminating the stadium we were shooting in. That's hardly the conditions you'll find in a sport arena or anywhere else for that matter. So we'll also have to wait until our full review to see how the Sony A9 copes in the real world.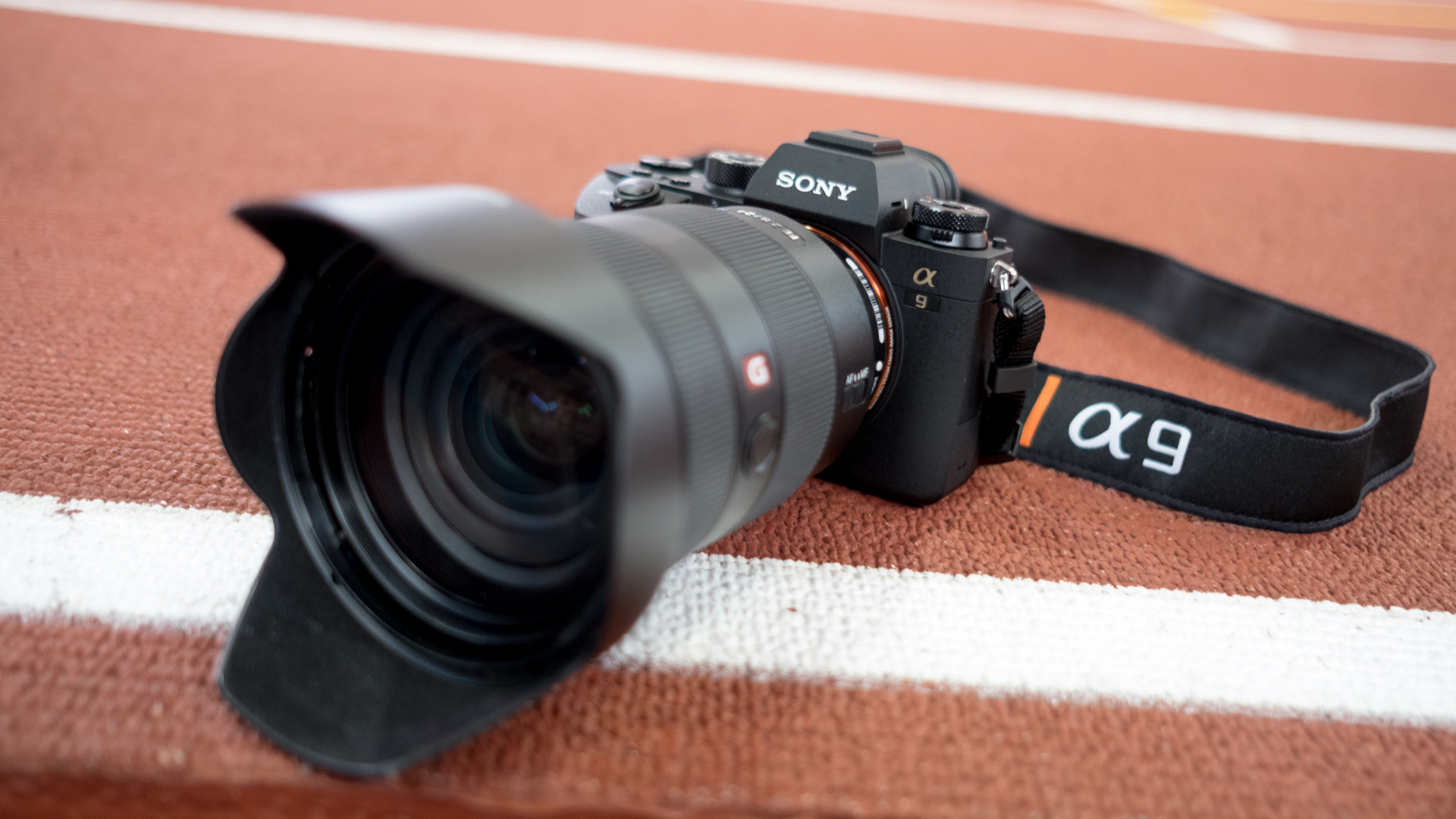 Early verdict
The Sony A9 is hands-down one of the most impressive cameras we've ever used. If you need to shoot a ton of photos with unbridled speed, this seems like the camera to get.
That said, the Sony A9 is aimed at a very particular crowd of sports and photojournalism shooters, and it's overkill for anyone outside of its niche market. But Sony has done an admirable job of producing one of the fastest and best performing cameras we've ever seen. 
We'll have to do some more testing with the new mirrorless full-frame camera in our full review, but we hope the shooting experience promised by Sony going with only an electronic shutter proves to be as good as it sounds when you press the shutter button.
We're also excited about the prospect of seeing the technologies introduced with the Sony A9 trickle down to the inevitable Sony A7 Mark III and Sony Alpha A6700.