Samsung NX300 to ship with Adobe Lightroom
Editor - 12th March 2013
Posted on
Categories
Off The Press
Samsung has announced that the brand new NX300 is to feature Adobe Lightroom 4.4 software. Combining the impressive feature set of the NX range with an array of post production tools included in Adobe Lightroom, Samsung aims to offer the best in photography.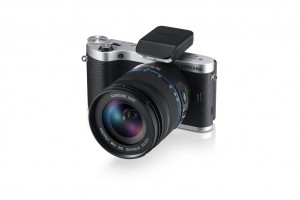 Launched at CES, the NX300 is the latest model in Samsung's NX range, which has become synonymous with innovation and design since its launch in 2010. Samsung's NX system makes the best digital imaging technology available to everyone without compromising on style, and this latest development to the NX range is set to see that further enhanced.
Adobe Lightroom 4.4 software provides a range of digital photography tools, enabling simple adjustments to advanced controls. Key features for the experienced photo-shoppers include shadow and highlight recovery, superior noise reduction and selective editing brushes, while those just starting out will benefit from extended video support and a nondestructive environment which encourages experimentation but never alters original images.
With a usual RRP of £106.48, the Adobe software will come completely free when purchasing the NX300 camera, which already boasts Speed, Performance and Connectivity with a 20.3 Megapixel APS-C CMOS sensor, wide ISO range (ISO100-25600), and a Hybrid Auto Focus (AF) system. The 45mm F1.8 2D/3D lens is the world's first one-lens 3D system, capable of capturing both stills and 1080p full HD video in perfect 3D quality.