Vtec Offers Lenses for Galaxy S3
Editor - 13th February 2013
Posted on
Categories
Off The Press
A range of compact camera lenses from VTEC  have been released to enhance the photographic capabilities of the Samsung Galaxy 3, which can be simply screwed into place.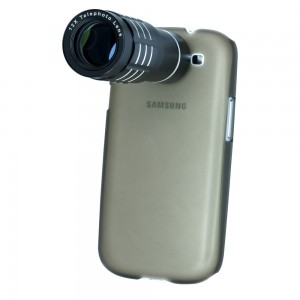 Compact, easy to use and simple to change, each VTEC lens come with a back cover that clips into place, and which the lens attaches to. VTEC lenses claim to "eliminate the need for a separate camera," but we'd humbly suggest that they could well provide an excellent route for imaging retailers to connect with those who find it more convenient to use their phone for photography.
The VTEC range boasts a number of different types of lens for the Galaxy S3 :
CAM-1209 Aluminium Telephoto Lens; Wide-Angle and Macro Lens kit;  Fish-Eye Lens;  CPL Filter and Microscope.
Each lens set comes with a phone cover that all lenses can attach to.