Retailer interview: Clocktower Cameras
Editor - 13th April 2015
Posted on
Categories

Features, Interviews
Edward Iwanczuk and Paul Wrede run one of the only camera shops left in Brighton. Here, Zoe Thomas pays a visit to find out how business is going…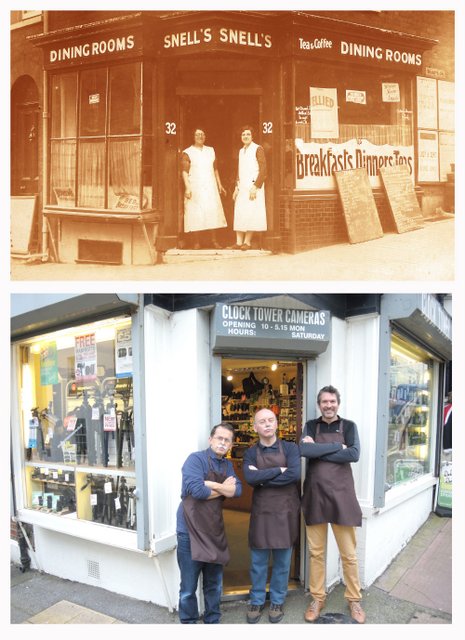 Clocktower Cameras is one of a dying breed: a 'proper camera shop'. You step through the door and find yourself surrounded floor to ceiling by tripods, camera bags, lens caps, second hand SLRs, straps, film and even the odd selfie stick.
"They flew off the shelves over Christmas," Ed says, pointing to the trending device. "But it tailed off a bit when Chinese manufacturers caught on and started selling cheap replicas over the Internet. Chinese stuff depresses me," he says. "How can we compete with such low prices?"
Since they opened 20 years ago, Internet shopping has been the biggest obstacle Ed and Paul have had to overcome.
"We've been hit hard by the Internet. Luckily we're very specialist. We've made a name for ourselves by being different. We have an olde-worlde thing going on – both with shop and staff," Ed laughs.
"People walk into the shop and go – wow!" Paul adds. "There's so much stock here, so much to look at."
And it's true. It's this 'treasure-trove' feeling that differentiates Clocktower from its local competitors – namely Park Cameras in Burgess Hill. While Park Cameras has a large, modern retail space with a wide variety of new stock from major photographic brands, at Clocktower Cameras there is a sense that you can dive in and find anything from any era. For keen photographers, this is a real draw.
Paul tells me about an elderly gentleman who came in looking for a bulb for a 50-year-old projector. "We actually had one! Even I was surprised," he says. "It's a case of, the wider we cast our net, the more fish we catch."
"We have a lot of regular custom," Paul continues while Ed deals with a couple of young women who just walked through the door. "We have one chap who comes in every week to look at our binoculars, and he nearly always buys something. There's another customer who comes in regularly to buy lenses and have a chat. It's a friendly community here. We like to build relationships with our customers and get to know them."
Photography is by nature a 'gadgety' hobby. As your skills improve, you realise you need the technology to take you to the next level. There is a collectors appeal: a desire to build collections and buy all the components. This is what keeps customers coming back to Clock Tower Cameras – they appreciate the advice from Paul and Ed and, often, just want to wax lyrical about their favourite pastime.
I overhear one of the customers in the shop say she's looking for black and white film, as she couldn't find any in Birmingham. Ed locates the product effortlessly from the shelf behind him and makes the sale.
With Brighton University and City College Brighton & Hove just around the corner, the shop regularly attracts students looking for film cameras and supplies.
"We're lucky here because of all the University campuses and colleges in Brighton," Ed says when they leave. There's definitely been a popularity boost for film amongst the younger generations."
Ed adds: "Definitely, younger kids are getting into traditional photography. There's a novelty to it. The main bulk of our business is second hand lenses, which they love. Old lenses are much better quality. They're made of glass so they're heavier, more aesthetically pleasing. You get these new lenses and they're just so light and plastic, and so expensive. We stock beautiful Russian lenses. It opens up a new world for young photographers."
This year the pair are celebrating their 20th year in business – impressive for an industry that's seen some huge changes in that time. They met at their previous jobs, working at City Camera Exchange which used to be located on Brighton's Western Road.
"I learnt so much working at City Camera Exchange," Paul says. "I learnt more there than I did working as a photographer's assistant, just because of all the questions the customers would ask. It meant I had to know the products through and through. Knowledge is the key.
"Both our parents were shop owners," he continues. "My parents ran a sweet shop and Ed's ran a fish and chip shop, so we both grew up helping out in a retail environment from a young age."
Ed went on to study design at University, while Paul studied sculpture at Kingston.
The first shop they bought together was located by the iconic clock tower in Brighton's city centre, hence the name of the business. They tell me it was much smaller than their current shop but due to its central location, had a greater footfall.
"It's weird – even though we had more people coming into the shop when it was opposite the clock tower, the business is doing much better now," Ed says.
Four years ago, the shop moved to its current location on Church Street, tucked away from the main road leading from the railway station. There used to be a Jessops store just around the corner, but the partners insist the proximity was actually good for business.
"I think Jessops drew customers into this area," Ed says. "If Jessops didn't have what they were looking for, they would come down the hill to us. It was good for business!"
In fact their first employee, Shaun Hamlin, came to the business directly from Jessops.
"Shaun's great," Ed adds. "He helps us out with the website and keeps our social media accounts up-to-date with new stock and such like."
I notice on the counter there's an old sepia photograph of what I assume to be the exterior of the shop when it was a tea-room called Snell's Snell's.
Paul sees me looking. "There's an interesting story here. A few weeks ago two little old ladies came into the shop – they said they both used to work here as waitresses when they were young women. They were walking around trying to work out where everything had been back in the day."
You don't get that from an Internet shop. When you own a physical, bricks and mortar shop, you're not just selling products: you are joining and serving a community that has a heritage. Brighton is a unique city in that 70% of the shops here are independently run.
"Brighton's really laid back. There is a sense here that locals want to support independent shops," Paul agrees. "People here want to come in and sift through things themselves. Especially with our camera bags. We find a lot of people get really frustrated trying to find something online, so they come in for help. As I said before, there is a lot of cheap tat on the Internet so at least when you come in-store you know you're getting quality. You can feel the bag and look it over before you buy. There's also less choice here, which can actually be a good thing. The Internet can be quite overwhelming for some people."
Ed adds that their customers are fantastic '99.9% of the time'.
I'm interested to know how another emerging technological trend has affected their business: smartphone photography.
"It doesn't affect us too much because we mostly sell second hand DSLRs, lenses, filters and accessories. But over Christmas I think we sold about two compact digital cameras," Ed jokes.
"But ultimately it should be a good thing for the industry," he adds. "People come in and say 'I've tried to blow up this image I took on my smartphone but it's too blurry' so they want to upgrade."
Paul adds: "Smartphone photography allows creativity, and encourages people to get interested in photography. They want bigger sensors so their images look better. Everything comes around in this industry."
It's clear that the pair understand their market. There's no snobbery, no bias: they stock what their customers want.
"It's intuition, I suppose," says Ed. "There's a lot of competition in second hand camera sales, but we listen to our customers and we stock a lot of lines. We have to be open minded. Sometimes you look at something and think 'nah it'll never sell', then it surprises you and flies off the shelf."
He tells me that reps come to the shop every six weeks or so to show them products.
"If the reps didn't come out to see us we probably wouldn't buy so much. There are fewer and fewer in the industry. Today there's just a few reps serving huge areas, so they don't visit as often."
"We have a really good relationship with our suppliers. We get loads of support from companies like Swains and Intro2020."
Today the shop thrives. For the short time I'm in there, there is near enough a steady stream of customers coming in, asking for advice and leaving happy, product in hand. I think their success is down to a mix of being located in artistic, laid-back, liberal-minded Brighton, and their own business sense and optimism. Here's to the next 20 years!