Pushing the Boundaries with the TZ7
Editor - 30th November 2012
Posted on
Categories
Off The Press
CSCs and high-end compact cameras are often marketed as ideal second cameras for those with professional photographic equipment. Panasonic have gone one further by showing what professional photographer Chris Skone-Roberts gets out of his "back up" Panasonic TZ7.
As an experienced freelance press photographer, Chris Skone-Roberts knows a thing or two about cameras.  With extreme watersports, helicopters, surfboards and boats his main repertoire Chris's photography is as demanding as it is exhilarating.  Kitted with the very latest professional cameras, lenses and tripods as you'd expect from a professional photographer – Chris's product portfolio requires rather extensive insurance!

Yet it's Chris's back up camera that often captures awe inspiring images, such as Sir Richard Branson kitesurfing across the English Channel, British Rock Band Whitesnake, and the RNLI Search and Rescue Helicopters – to name but a few.  This back up camera is the Panasonic DMC-TZ7.

 As Chris explains, "Its long zoom and small body make the TZ7 really portable which means I can easily take it with me. It's also got excellent speed of focus, allowing me to capture images anytime, quickly". It's features like this that enabled the TZ7 to provide a three quarter page image in The Daily Mirror this summer, and video footage taken from a helicopter of Sir Richard Branson setting the Triple World Record English Channel Kitesurfing crossing, for example.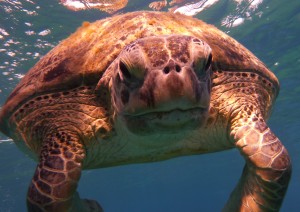 As an avid fan of watersports from a very young age, the ability to shoot underwater is a must for Chris. When coupled with suitable waterproof housing, such as the Panasonic Lumix DMW-MCTZ7 that Chris uses, the TZ7 is a competent and sophisticated camera that can shoot still images and record high-definition motion footage in AVCHD Lite[1].  Chris has travelled far and wide, capturing stunning underwater images using the TZ7,such as turtles diving in Eqypt. As Chris explains, "the TZ7 has been with me everytime I dive even down as low as 40m."  As a qualified PADI Rescue Diver and a frequent underwater photographer, Chris says "this camera is like air to me underwater".

This particular TZ7 has seen more adventure, adrenalin and travel than most cameras – having previously been owned by a young man called Guy Joseph who tragically died in a paragliding accident. Along with his TZ7 Guy travelled the world, diving, paragliding and living life and it's rather fitting that his trusted camera can continue it's journey with Chris.  Touchingly Chris sends Guy's Dad images taken with the TZ7 – images so beautiful and akin to the life that Guy led that they move him to tears.  Every person has a story, and so it seems does every camera too. Read about Guy at guystrust.org