Polaroid bring the Socialmatic Camera to life
Editor - 1st March 2013
Posted on
Categories
Off The Press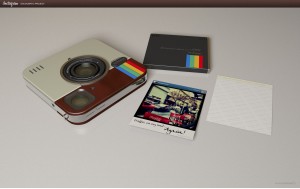 As reported recently, Instagram's Socialmatic camera will be seeing the light of day as a physical product some time early 2014.
In a deal between C&A Marketing and Socialmatic, the final product will be known as the Polaroid Socialmatic Camera, and we expect to see it landing with accessories such as bags, additional lenses, an array of filters and potentially some other Polaroid-branded kit as the brand continues to stage it's phoenix-like resurgence into the consumer imaging market.
Physical specs are not clear right now but we expect to see around 16GB of storage, Wi-Fi and Bluetooth connectivity, 2 lenses, optical zoom, 4:3 touchscreen, LED flash, AND an internal printer. There's a possibility that the camera might even print out Instagram snaps featuring QR codes which will route people towards the users account.
Watch this space as we continue to dig out the details. Pricing will follow along with full physical and technical spec.
Please discuss with us here on www.pixel.co.uk