Pixel Speaks to Hama, Winners of the Accessory Distributor of the Year Award 2013
Editor - 29th August 2014
Posted on
Categories

Features, Interviews, Off The Press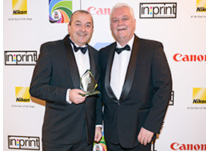 The Pixel Trade Awards 2014 are fast approaching so we caught up with Simon Buckingham of Hama, winners of the Accessory Distributor of The Year Award 2013.
What did it mean to Hama to win accessory distributor of the year?
To win this award is always a great honour, especially from a long serving publication to the photo industry such as Pixel Magazine. It is because of the stature of this award that we pride ourselves to consistently improve our business on a day by day basis to ensure we keep up with this accolades worth.
Why do you think you won? What makes Hama stand out from its competitors?
Having been around in the UK since the early 90's, we have developed very strong relationships with our retail partners. With our recent methodology changing towards a branched out service, in addition to our extensive product offering, which includes merchandising solutions, Marketing support, training and dedicated account management – we have been able to offer a complete package to our customers. This has been excersised certainly this year, and both parties have reaped the rewards
The awards are chosen and judged by your industry peers does that making winning the award even more special?
Absolutely, which goes back to what I mentioned earlier, it is the stature of this award, and everything that is built in to it, which makes it that much more special to have won it.
How do you rate your chances for winning again in 2014?
I am confident of course, but we always acknowledge the excellent competition out there. I feel that our new retail solution strategy will help boost our chances once again, and I hope we can obtain the title again.
What was your highlight of the awards night?
Picking up the award is always the pinnacle point. However being around our fellow industry professionals and customers has to be a big part of the night also. Some old and new faces are present, and it is great to see the photo industry continue to stand strong despite these tough climates with the economy.
Tweet us your thoughts on who you think should be winning at this year's Pixel Trades Awards @PixelMagazine #PixelAwards
For more information on how you to book your seats for the Pixel Trade Awards Ceremony, which is taking place on the 24th October at the Riverbank Park Plaza, London and other opportunities available – email Sam – samanthaash@outlook.com.
ABOVE: L to R: Nick Grey, Managing Director of Hama (UK) Ltd, John Goodwin, Sales Director of Hama (UK) Ltd
Pixel Speaks to Hama, Winners of the Accessory Distributor of the Year Award 2013