Paralympic Gold Medallist Mark Colbourne Opens New Panasonic Store In Cardiff
Editor - 4th December 2012
Posted on
Categories
Off The Press
Welsh Paralympic Gold Medallist Mark Colbourne opened the new Panasonic Store in Cardiff on Saturday 3rd November at 10am. Mark, a paralympic-cyclist, won gold in the C1 3km individual pursuit at London 2012 after breaking the world record in both the qualification round and the final.
The new Panasonic Store will be operated by Alun Vaughan of Vaughan's Radio, who also currently operates two Panasonic Stores in Haverfordwest and Llanelli. At 2,500 sq ft, the new store will be the biggest of the three Panasonic stores and the second largest in the UK.
The store will feature the full range of Panasonic's AV and imaging products along with white goods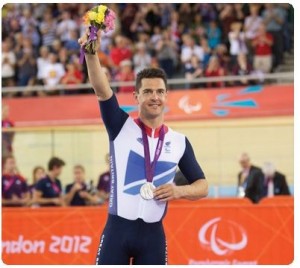 . It's also the first Panasonic Store to incorporate Panasonic's systems products including air conditioning units, CCTV and telephone systems. Robert Scholes, Sales Director at Panasonic UK comments: "We are delighted to welcome such an inspirational athlete such as Mark to open our new Panasonic Store in Cardiff. As the largest Panasonic Store in Wales, the new Cardiff store is testament to Panasonic's expanding product portfolio. We are also extremely pleased to be working again with Alun Vaughan and look forward to making Panasonic Store Cardiff a great success."
Panasonic was the Official Audio Visual Partner at London 2012 and has been providing AV equipment for the Olympic Games for more than 20 Years. Under the slogan 'Sharing the Passion', Panasonic contributes to the success of the Olympic Games with technology and video expertise from large screen displays, audio and broadcast equipment at the event venues to supplying top of the range cameras, camcorders and plasma displays to support the training programs of athletes.