OM-Deals!
Editor - 15th November 2013
Posted on
Categories
Off The Press
To celebrate the success of the award-winning, OM-D E-M1, Olympus are offering a £100 Accessory Cashback voucher to anyone purchasing  an E-M1 body or kit from authorised Olympus dealers.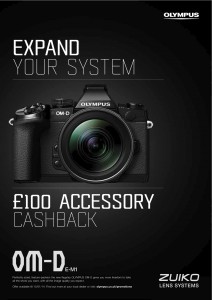 From today (November 15) buyers of an E-M1 can claim the £100 cashback on any Olympus accessory worth over £199.99. This can either be redeemed at the same
time or within 60 days of the initial purchase.
So whether they want to invest in an additional lens or add a new flash to their kit bags there really hasn't been a better time to invest in the Olympus OM-D system.
The offer will run until January 15 2014 and really gives added to value to the camera everyone is talking about.
Full details on the promotion can be found via the following link: http://olympusuk.sales-promotions.com/