OM-3! Third OM-D model is here
Editor - 6th February 2014
Posted on
Categories
Off The Press
OM-3!
Third model added to Olympus' OM-D range.
Olympus'  OM-D family has a new member: the E-M10. The striking newcomer combines the fine image quality, classic styling and focusing speed of the E-M5 with the sheer power of the flagship E-M1, albeit in an extremely compact all-metal casing. It even comes with the same TruePic VII image processor and WiFi technology as the E-M1, but it's a fraction of the size.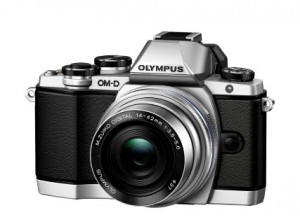 Despite the compact dimensions and potent components, the E-M10 makes room for a large, high-speed electronic viewfinder, 1.440.000-dot, 3-inch tiltable LCD, 3-axis image stabilisation, ultrafast autofocus FAST AF – and one simple addition that practical-thinking owners will love: a pop-up flash. The E-M10 is available with two lens kits from the end of February, 2014. With the new, super-slim M.ZUIKO DIGITAL ED 14-42mm 1:3.5-5.6 EZ electronic zoom lens for £699.99. The body without a lens will cost £529.99.