Nikon introduces a successor to its COOLPIX camera
Editor - 21st February 2013
Posted on
Categories
Off The Press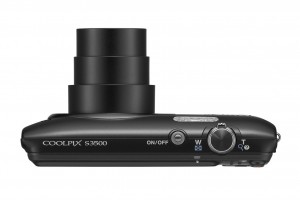 The colourful S3500 has 20-megapixels, 7x NIKKOR wide-angle zoom lens, and crisp HD video
RRP: £129.99 / €155.00
Sales start date: 22nd February 2013
Nikon today announces a new entry to the COOLPIX S series of compact cameras. Following the S3300, the bestselling camera across all categories in Europe, Nikon are proud to announce the S3500 range – with a 7x NIKKOR wide-angle zoom lens, 6.7-cm (2.7-in.) LCD screen, Lens-shift vibration reduction, 720p video recording, and in-camera filter effects.
James Loader, Product Manager for COOPIX at Nikon UK says: "The COOLPIX S3500 is made to capture the fun as it happens. Automatic focus, along with vibration reduction technology to minimise the effects of camera shake ensures crisp clear images, while the wide angle lens with optical zoom covers both group shots and close-up portraits with ease. The stylish, quality design and eye-catching colour variations mean you will want to take it with you everywhere you go."
The COOLPIX S3500 is more versatile than any smartphone. It boasts a slim 20.5mm body, while offering a 7x NIKKOR optical zoom lens with vibration reduction technology to guarantee clear and steady images and videos.
Aimed at keeping things simple, the S3500 encourages hassle-free creativity. A selection of 18 scene modes automatically optimise camera settings for popular picture taking scenarios, and the Smart Portrait System provides a plethora of automatic detection technologies to ensure perfect people pictures. Glamour retouch options help to make portraits more flattering, and the retouch menu has a raft of options for enhancing photos on the spot, including quick effect mode in playback. Examples include Selective Colour, which converts images to monochrome and then adds a splash of colour to an area of your choice, while Cross Screen adds a starry effect to bright objects.
Nikon are highlighting the level of detail guaranteed by the 20-megapixel CCD sensor in an effort to encourage your customers to print their images.
Alternatively, it's simple to share them online using an Eye-Fi X2 card (or later version) to transmit digital photos in JPEG format directly to a smart device or PC.
For the budding film-makers, the crisp HD (720p) video recording is available at the touch of a dedicated movie-record button. Moments can be captured instantly, and played back on the large 6.7-cm (2.7-in.) LCD screen. Even in bright sunlight or low light, the screen's brightness adjustment promises clear shooting and playback.
The COOLPIX S3500 comes in eight colours: purple, silver, black, red, orange, pink, pink with lineart, and blue with lineart.
Distributor information to follow…