New Drobo Mini 8TB Is 'Industry First'
Editor - 15th October 2014
Posted on
Categories
Off The Press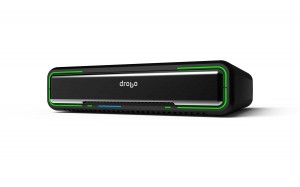 The tough new Drobo houses 'massive' amount of storage
Connected Data, creators of the award-winning Drobo range of smart storage solutions, has launched the new Drobo Mini 8TB.
The new device features four hot-swappable 2.5″ drive bays pre-loaded with sour Samsung Spinpoint M9T 2TB drives. The Drobo Mini's BeyondRAID technology ensures data isn't lost in the event of one or two drive failures.
Even if a drive does fail, the Mini will automatically repair itself and return to protective state without denying access to data. New drives can be added or swapped without losing access.
Weighing in at just 3lbs, the Mini is ideal for on-the-road photographers and videographers who need to store, access and transfer large multimedia files from media cards while on location.
David Franjovich, Director of Samsung's HDD division said: "The Drobo Mini is the ideal storage array for our new 2TB Samsung Spinpoint M9T hard drives. We're able to provide Drobo users with the highest-capacity and thinnest storage solution available in today's market."