NEW Colourful Pentax K-S1
Editor - 28th August 2014
Posted on
Categories
Off The Press
The new Pentax K-S1 DSLR comes in 12 'fashionable' colour variations
After launching the Q-S1 'super compact' camera in 40 possible colour combinations last month, it seems Pentax is keen to take this colour trend to the higher end of the market, with the new K-S1 DSLR in 12 jazzy shades.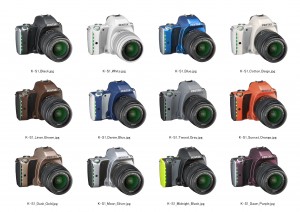 The new K-S1 marries powerful performance with a portable, modern-looking body – ideal for the emerging market of young enthusiasts who want to take their photography to the next level. According to recent statistics from GfK, more people than ever are now choosing DSLRs over compact cameras, suggesting that quality is high on buyers' priorities.
Ricoh Imaging said: "Designed for photographers who take pictures wherever they go, whether that's on a smartphone or tablet, the PENTAX K-S1 ups the ante when it comes to image quality, while still offering a great lightweight, compact and portable option."
The camera has some interesting and original new features, including a newly developed 20mp CMOS sensor with AA (anti-aliasing) filter simulator, which we first saw on the PENTAX K-3. It also has some funky LED body lights which indicate the status of the camera's operation, switching from green during still image shooting, to red during movie recording.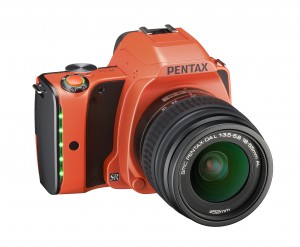 The 3.0 inch high-resolution monitor has also had a re-design, offering a brand new interface for exploring the camera's software. There are a number of creative tools to choose from, including three brand new options: 'Fresh' for a crystal-clear finish, 'Fade Colour' for an elegant finish with subdued colours, and 'Infrared' for a black-and-white infrared photo effect. There are also 21 digital filters to play with, including a new 'Colour Replacement' filter that hasn't been seen before.
An optional FLUCARD FOR PENTAX 16GB memory card enables users to connect their camera with their smartphone via a wireless LAN connection. They can then view a live-view image and control the camera remotely with their mobile device.
RRP: £99.99
Other key features of the K-S1 include:
Full HD movie recording with stereo audio
Super-high sensitivity at ISO 51200
Top shutter speed of 1/6000 sec.
High-speed continuous shooting function with a top speed of 5.4 images per second
DR (Dust Removal) mechanism for effective elimination of dust on the image sensor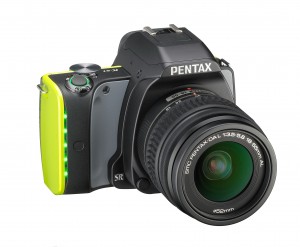 Colours: These include Black, Blue and White as standard, four models from 'the Fabric collection', which recreates the colour and tone of materials with Cotton Beige, Linen Brown, Denim Blue, Tweed Gray; and five from 'the Night Sky collection', which reflect the colour changes in the sky from sunset to dawn with Sunset Orange, Dusk Gold, Moon Silver, Midnight Black, and Dawn Purple.
RRP:
K-S1 body only: RRP £549.99
K-S1+ SMC DA L 18-55mm f3.5-5.6  – RRP £599.99
K-S1 + SMC DA L 18-55mm f3.5-5.6 AL + SMC DA L f4-5.6 AL 50-200mm AL – RRP £679.99
Availability: Mid-September
Accessories: 
Bagpack for SLR – A backpack for carrying all DSLR equipment, including removable dividers to keep lenses, cameras and cables organised.
Waterproof remote control O-RC1 – a waterproof Pentax-compatable remote control allowing shutter release, zoom and Fn button http://www.ricoh-imaging.co.uk/en/remote-controls/Waterproof-Remote-Control-O-RC1.html
Flash AF 200 FG – This clip-on auto flash has a guide number of 20 (at ISO 100/m) with simplified operation thanks to the control dial on the back panel, and a compact design.