MIMOBOT designer USB flash drives available exclusively from Centerprise
Editor - 14th December 2012
Posted on
Categories

Off The Press, Pixel TV
Pop-culture inspired designs thanks to licensed partnerships with Warner Bros, LucasArts and more
The distinctive limited edition character-based USB Flash drives by Mimoco are coming to the UK, and will be distributed exclusively by CenterpriseInternational. MIMOBOT® designer USB Flash drives are a global phenomenon thanks to the emotive nature of the pop-culture designs such as Star Wars and DC Comic characters which attract scores of fanatical followers and collectors.
The Mimobot Flash Drive series boasts official licensed designs thanks to partnerships with some of the most influential forces in pop-culture: Lucas Arts, Hello Kitty and Warner Bros to name a few. Mimoco have produced 250+ Mimobot designs to date, Centerprise will offer 20 of the best selling for the UK market including: Darth Vadar; Yoda, Batman, Superman, Bumblebee off of Transformers and a Hello Kitty selection.  There's something for everyone. (Full list below)
As innovative and creative as they are portable and functional, Mimobots are more than just form and function.  In addition to storage and transport for music, docs, pics etc, and instantly recognisable designs, these stand-out Flash drives boast unmatched digital media delivery methods and value-adding assets thanks to Mimoco's Mimory™:
mimoDesk™ Personalisation Suite – free wallpapers, screensavers, icons, avatars, and other digital surprises.
mimoByte™ Sound Software – a bit of fun, the Mimobot plays character-specific sounds when  inserted/ejected from a computer.
'MIMOBOT® offers a unique combination of authenticity, superiority, and personality, in a useful, emotionally-charged form. The emotive nature of MIMOBOT® character-based Flash drives combined with their daily usage delivers the perfect portable memory solution to be enjoyed by your customer.'
The Mimobot SRP is £19.99. Retail partners can enjoy 30% margin. To discuss or to place an order contact Centerprise:
T: 01256 378071
E: distributionsales@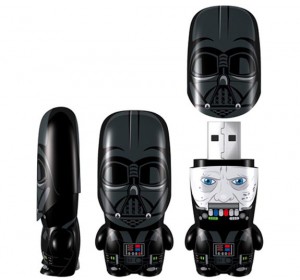 DC Comic Series:
Batman 8GB
Robin 8GB
The Flash 8GB
Superman 8GB
Star Wars Series:
C-3PO 8GB
Wicket the Ewok 8GB
Darth Vadar 8GB
R2-D2 8GB
Stormtrooper 8GB
Yoda 8GB
Transformers:
Bumblebee 8GB
GI Joe:
Cobra Commander 8GB
Hello Kitty:
Hello Kitty Apple 8GB
Hello Kitty Balloon 8GB
Ugly Dolls:
Ox 8GB
Emily the Strange
Emily-Save Yourself design 8GB
VARIOUS:
Bruce Lee 8GB
RAY D81 (Skeleton design) 8GB
Buddy Chub (Rainbow design) 8GB