Meet the Stylus 1
Editor - 29th October 2013
Posted on
Categories
Off The Press
Olympus' new premium compact, the STYLUS 1, packs an impressive punch in an extremely portable body. Here are the details: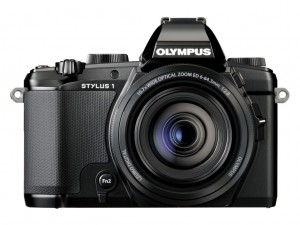 Despite a casing depth of just 52mm, it has a brand new 28-300mm* high-power i.ZUIKO DIGTAL lens that offers a constant 1:2.8 aperture from wide to telephoto shots, with a 10.7x optical zoom. Olympus designed this lens to work seamlessly with its large-format BSI CMOS sensor, as well as the TruePic VI image processor that is already familiar to users of the OM-D E-M5 system camera. Other tried-and-tested OM-D features include the handling and grip that comes from the D-SLR-style casing and layout. For accurate and professional framing, there is the large, 1.44 million dot electronic viewfinder, Fast AF for near-instant, precision focusing via touch screen and built-in WiFi for real-time smartphone access – likewise all OM-D-proven. The STYLUS 1 has superb dynamic range and low-light capability, plus the same Hybrid Control Ring for manual or digital control of key settings that has proved so successful on the Olympus XZ series.
  The ultra-slim, 'full-range', constant-aperture 1:2.8 10.7x (28-300mm*) high-power i.ZUIKO DIGITAL lens has the versatility and quality for everything from wide to telephoto shots. The large-diameter lens features a powerful, built-in VCM image stabilization mechanism that virtually eliminates camera shake and blur. Unlike lesser rivals, deliberate defocusing generates bokeh approaching D-SLR standards and the lens' brightness enables high-shutter speeds even in dark scenes. Another significant advantage of the lens is only apparent when it's not in use – it retracts fully into the camera body (behind an automatic lens cap), so the STYLUS 1 fits easily into a coat pocket.
Unlike most compact cameras, for eye-on-camera shooting the STYLUS 1 has an electronic viewfinder. It's the same very large, fast-response, high-definition model as the O-MD E-M5, that puts the EVF on many entry-level D-SLR style cameras to shame. 1.44 million dots, a level gauge and shadow highlighting make shot and pre-shot setting selection a joy. With VCM image stabilization mechanism readings visible in the viewfinder, it's a lot easier to shoot sharp at long focal lengths. Automatic backlight control ensures accurate reproduction of dark and bright parts of the scene and there is no noticeable time lag. The STYLUS 1 automatically detects your eye behind the viewfinder and shuts off Live View on the tilting LCD.
 The customizable analogue / digital Hybrid Control Ring on the front lets you assign the parameters you adjust most frequently (e.g., aperture, shutter speed, exposure time and program shift) to the ring or sub-dial on the top of the camera. Built-in WiFi combined with OI.Share software allows the Stylus 1 to link with a smartphone, which then becomes a portal for image sharing.
The STYLUS 1 will retail for a recommended £549.99, from late November 2013.