Manfrotto Launches the 290 Three-way Foldable Head
Editor - 19th December 2012
Posted on
Categories
Off The Press
Manfrotto have announced the latest addition to the Manfrotto 290 tripod range, the Manfrotto 290 Three-way foldable head (MH293D3-Q2), specifically designed to maximise compactness and transportability, while also allowing accurate, precise framing and solid support of medium weight camera equipment.
A unique mechanism allows the handles to be 'folded' when the head is not in use. With the handles folded and running parallel, the head's dimensions are dramatically reduced, thereby taking up less space when packed, and is easier and less cumbersome to carry. The body is made from Adapto, a special lightweight polymer which cuts down the weight of the head, yet offers high mechanical resistance for sturdy support. The head has three levelling bubbles (one for each axis of rotation) which make it easier and faster to get straight, well-framed images in-camera, thereby saving time in post-production. The Manfrotto MH293D3-Q2 quick release system allows the camera to be attached (or detached) safely in a second.
The head alone – SRP £54.95, along with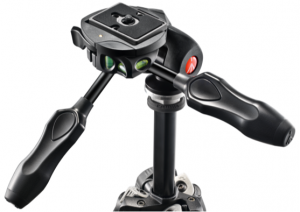 three Manfrotto 290 kit variants in both aluminium and carbon fibre, starting from £119.95. More information about the MH293D3-Q2 foldable three-way head and about the Manfrotto 290 range in general, is available online at manfrotto.co.uk.
Manfrotto Distribution Ltd
Unit 4 The Enterprise Centre
Kelvin Lane
Crawley
West Sussex
RH10 9PE