ImagingTech in 2013 – Rumors, Murmors and more…
Editor - 1st January 2013
Posted on
Categories
Off The Press
Take a look at this concept from Fujitsu – over the next few days, as we ease into 2013, we will post a number of predictions and imaging technology breakthroughs (real and rumor) for your consideration. Let us know your thoughts as we post them – as always, we're keen to see what you think will be a hit and what will flop…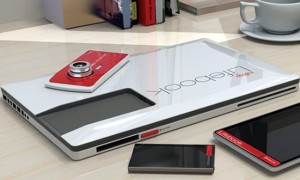 The Fujitsu Lifebook 2013 is a concept device designed by Prashant Chandra. It's the result of a competition Fujitsu ran back in 2011. The Transformer of gadgets, the Lifebook features a digital camera, smart-phone and a tablet, all of which can be detached to be used individually at will.
Each component has its own CPU and could potentially run on the same operating system. No one is sure if Fujitsu will make these in 2013, perhaps CES will be telling here – it would certainly be an interesting addition to the wealth of new tech, heading our way in 2013.
What do you think – the ultimate convergence product or a complete waste of time?