"I'M IN!" – Peter Jones Reopens Jessops
Editor - 27th March 2013
Posted on
Categories
Off The Press
Six Jessops stores are to open tomorrow morning, with a further 24 to be open for business again before the end of April.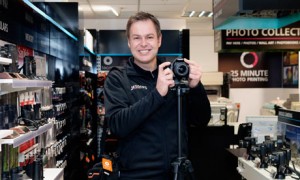 Dragons' Den star Peter Jones, who bought the Jessops brand from the administrators, is thought to have invested around £5 million of his personal fortune in getting the stores ready to reopen, sporting their new look which is being called "Apple Store-esque" by those who have had a peek at them.
The stores opening tomorrow (Thursday 28th March) are based in Lonon, Manchester, Aberdeen, Birmingham, High Wycombe and St Albans.
The majority of the staff employed in these stores will be made up of those Jessops employees made redundant when the chain went into administration, and Peter Jones hinted to the Guardian that the former staff's enthusiasm was one of the factors behind his decision to reopen the stores.
He also indicated that he may need to abandon his spot in the BBC's Dragons Den if his commitments at Jessops take over.