Fujifilm GFX 50S review
Editor - 4th May 2017
Posted on
Categories

Fujifilm, Reviews, Uncategorised
With their $20,000 / £20,000 and upwards price tags, medium format cameras have pretty much been the realm of the professional photographer and enthusiasts with seriously deep pockets.
There have been some exceptions – Pentax bought out the 645D in 2010, and while it was by no means cheap, it's much more palatable price tag opened up medium format photography to a wider audience.
Pentax has pretty much had its own way since then, following the 645D with the 645Z in 2014, but last year both Hasselblad and Fujifilm stepped into the ring. First came the Hasselblad X1D in June, followed shortly after by the Fujifilm GFX 50S, which stole the show when it was revealed at the Photokina industry expo in Cologne last September, since when we've been eagerly awaiting the final production samples.
Unlike the 645Z, both cameras are mirrorless designs, and while this is a natural extension for Hasselblad, it might seem like a huge jump for Fujifilm. However, dig a little deeper and you'll discover that Fujifilm has a rich heritage in medium format film photography – even making some Hasselblad-branded lenses for its medium format cameras.
Features
Medium format (43.8 x 32.9mm) CMOS sensor, 51.4MP
3.2-inch touchscreen, 2,360,000 dots
1/125 sec flash sync speed
You might be asking yourself "If I can get a 50.6MP full-frame Canon EOS 5DS DSLR, why should I be bothered about Fujifilm's new GFX 50S?". The simple answer is sensor size – with a sensor some 1.7x larger than a full-frame chip and measuring 43.8 x 32.9mm (producing 4:3 aspect ratio images), you get much bigger photosites (pixels). The result is better light-gathering capabilities, meaning we should expect to see better low-light performance and better dynamic range.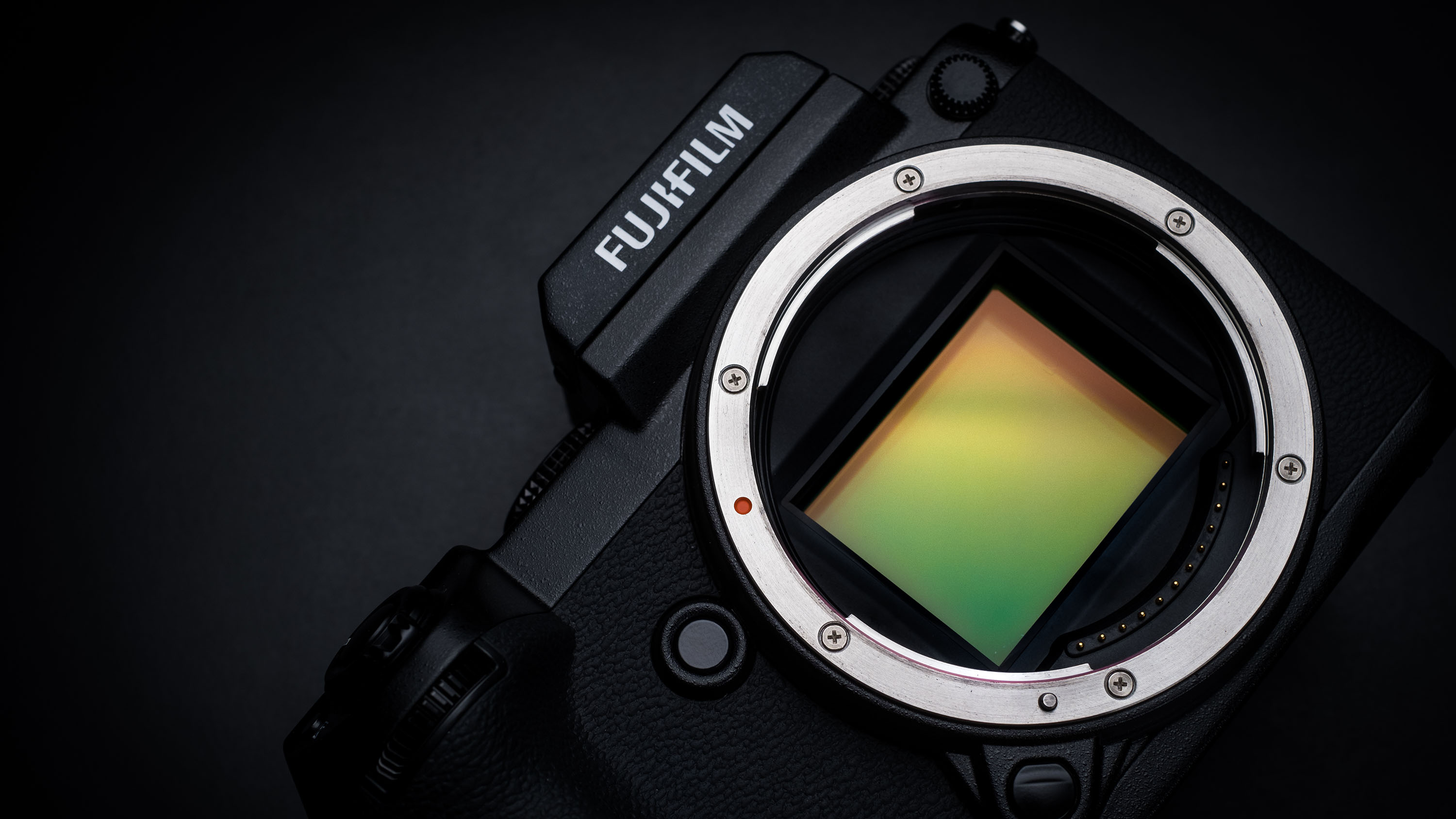 That's just half the story, as the larger sensor delivers a different aesthetic, with a shallower depth-of-field at any given focal length.
Unlike the X1D, the GFX 50S uses a regular focal plane shutter, so while the Hasselblad has the luxury of being able to flash-sync at any desired shutter speed, with the GFX 50S you're restricted to a slightly more conservative limit of 1/125 sec.
Like the X1D, Fujifilm has opted for a mirrorless design with the GFX 50S, which means there's an electronic rather than optical viewfinder for composition. The eye-level viewfinder packs in a large 0.85x magnification, with an impressive resolution of 3.69m-dots for a clear and bright view.
And that's just half the story – thanks to the modular design of the GFX 50S, the eye-level viewfinder can be removed and replaced with an (optional extra) electronic tilting viewfinder that slots into the accessory port on the top of the camera.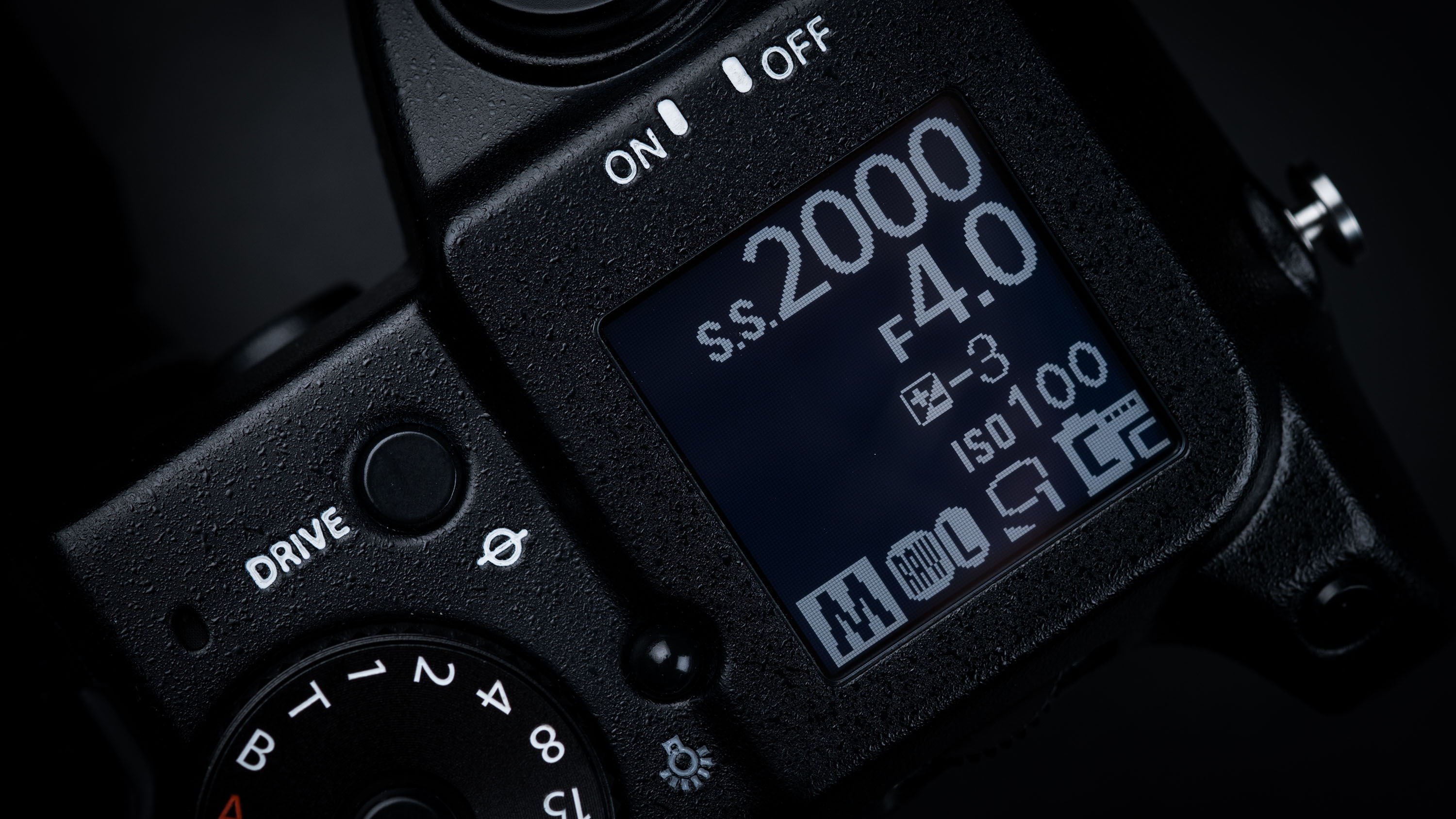 Complementing the EVF is not only a 3.2-inch dual-hinged tilt-angle screen (similar to what we've seen with the X-T2) at the rear with 2,360,000-dot resolution and touchscreen functionality, but also a compact top plate LCD display that shows key shooting settings, battery status and how many shots are remaining on the card (the GFX 50S features dual SD card slots, compatible up to UHS-II).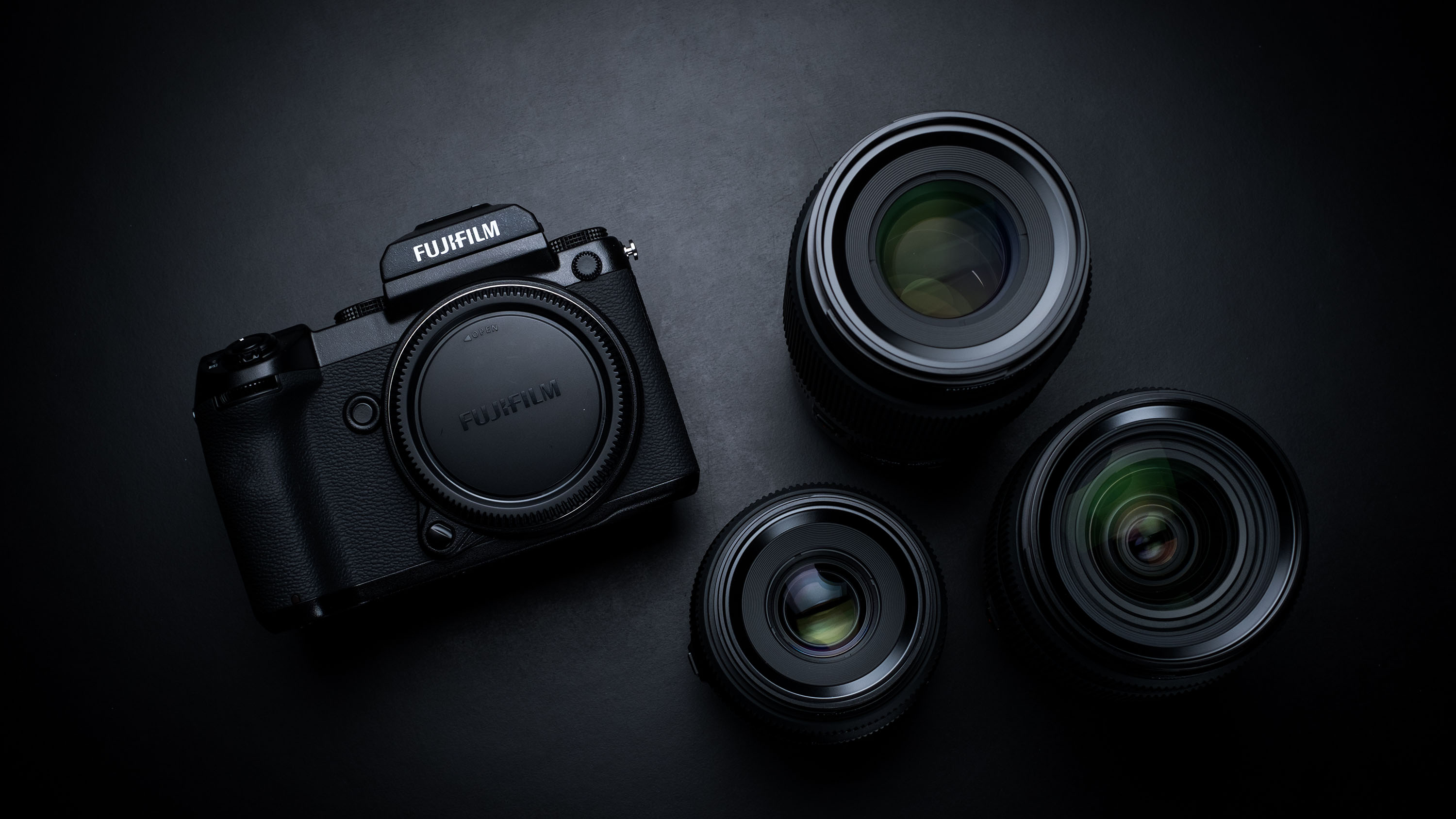 The GFX 50S features a completely new G lens mount, with three lenses currently available: a 63mm f/2, a 32-64mm f/4 and a 120mm f/4 macro, with three more scheduled to be available later in the year.
Because the sensor is larger than that of a full-frame camera, there's a 0.79x crop factor to take into consideration, so that 63mm is roughly equal to 50mm on a full-frame camera, while the 120mm is equivalent to 95mm.
Build and handling
Magnesium alloy body
Shutter tested up to 150,000 shots
Weighs 825g
The addition of a mechanical shutter means the Fujifilm GFX 50S's body, despite being a mirrorless design, is quite substantial. Noticeably thicker than the X1D, it's also that bit bigger and heavier than full-frame DSLRs like Canon's EOS 5DS and the Nikon D810. Not so much, though, that it's an issue – on a couple of occasions we bundled the GFX 50S, along with the 63mm and 120mm lenses, into a modest-sized shoulder bag and wandered around with it quite happily.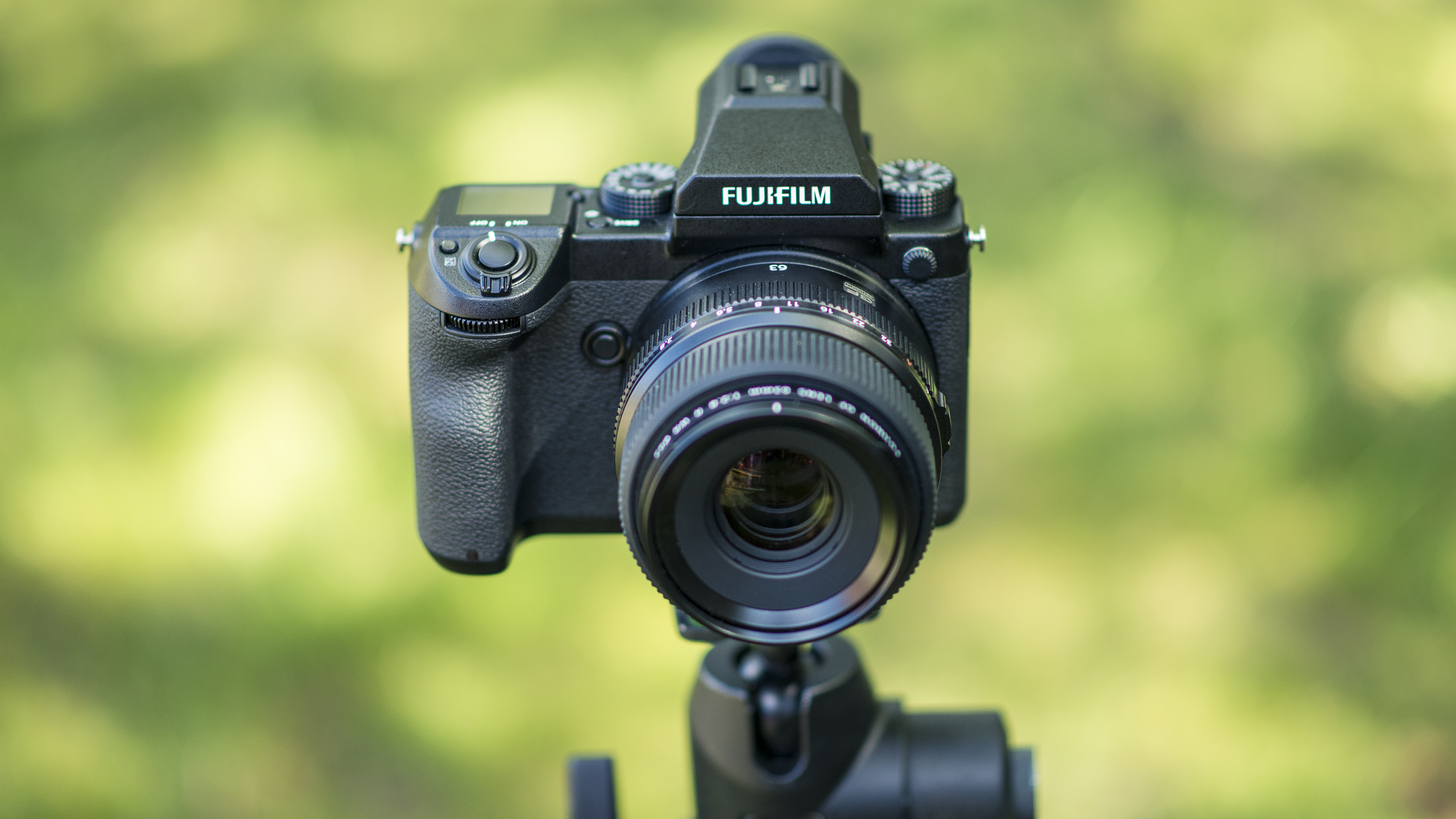 It doesn't feel too cumbersome to pick up and hold either. The grip is a generous size, and overall you get a comfortable grip, while with the 63mm lens on the front the camera feels really nicely balanced.
You could be forgiven for thinking that a medium format camera could be a bit more daunting to use than a DSLR or mirrorless camera, but the reality is that if you've used a Fujifilm X-T2 or similar you'll feel right at home with the GFX 50S.
There are plenty of traditional body-mounted controls, including lockable shutter speed and ISO dials on the top of the camera (aperture is selected via the ring on the lens in 0.3EV increments), and front and back command dials, as well as a host of customizable controls.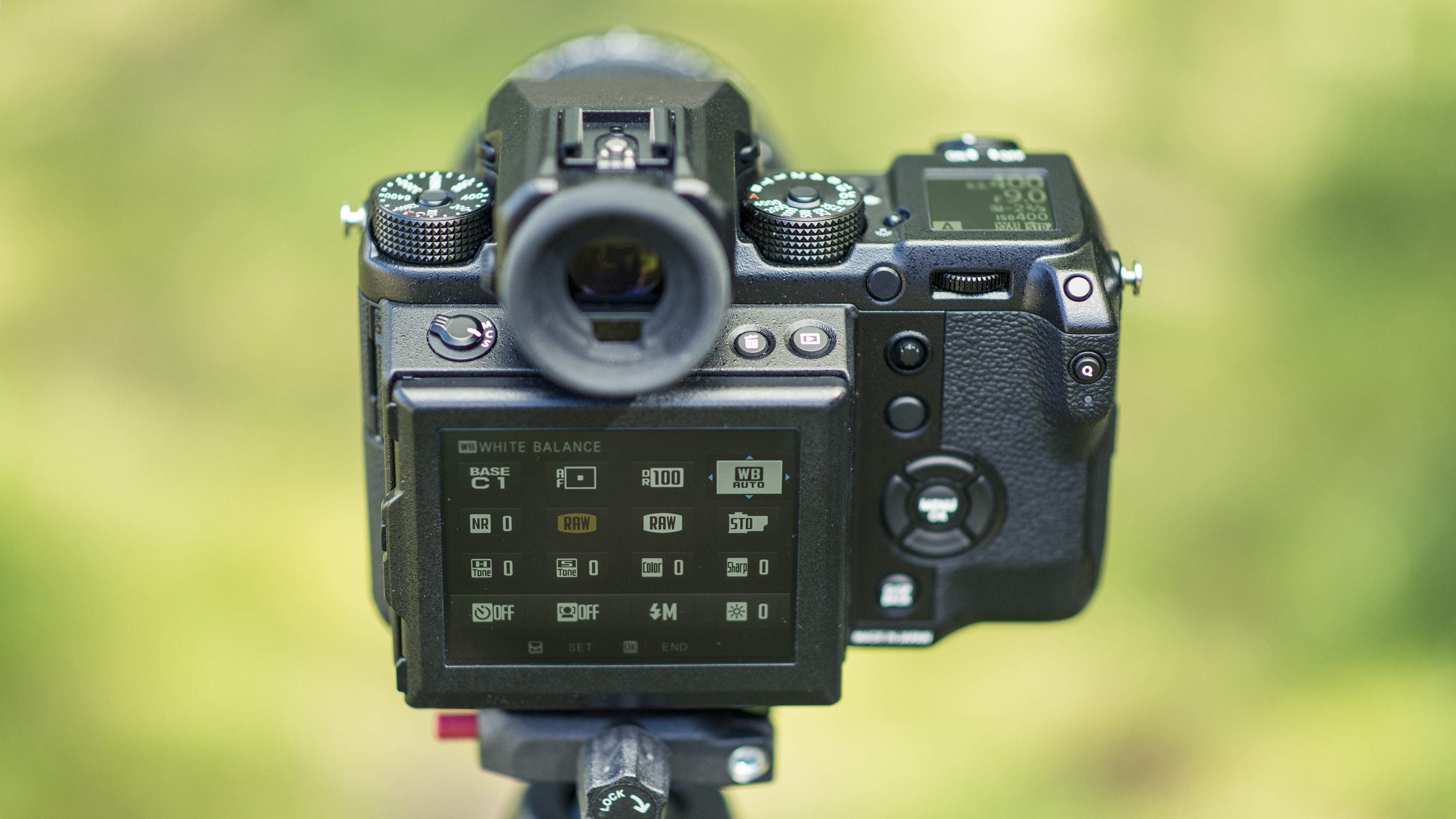 There's also a handy joystick for AF point selection (if you don't want to use the touchscreen), while there's the familiar 'Q' button for accessing some of the camera's key settings.
On the whole, as we've come to expect from Fujifilm, the GFX 50S is a very well thought-out camera, but there are a couple of niggles. The arrival of the top plate LCD means there's no place for an exposure compensation dial, which has been a typical Fujifilm design trait since the X100; it's been replaced by a fiddly little button that sits just to the right of the shutter button, and it's a bit awkward to use.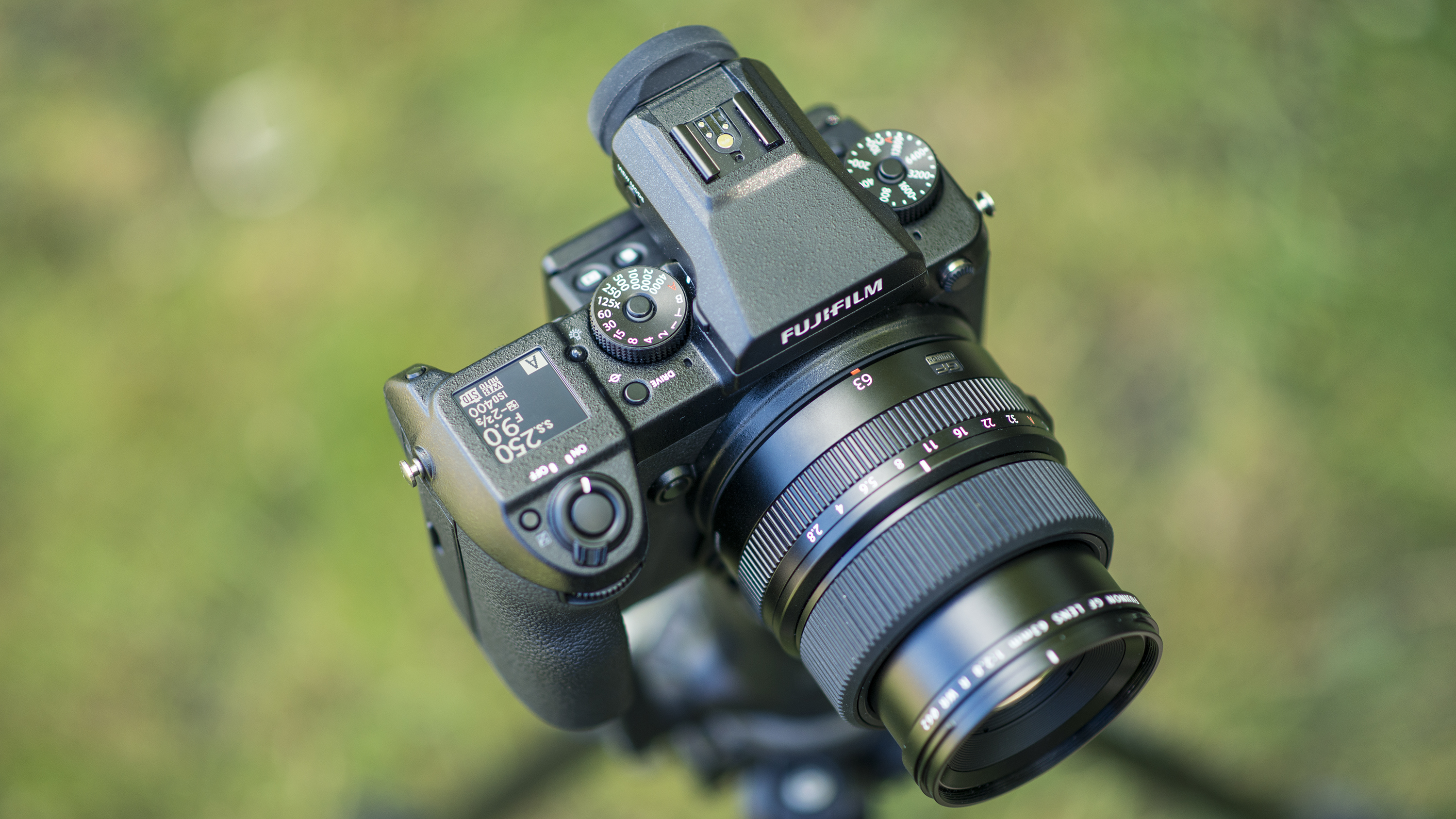 That little moan aside, the GFX 50S feels like an incredibly well made (the body is made from robust magnesium alloy, and is weather-sealed at 58 points to achieve a high level of resistance to dust and moisture) and photographer-orientated camera.
Autofocus
Contrast-detect AF
Total of 425 points available
AF box size can be adjusted
Whereas we've seen numerous mirrorless cameras offer on-sensor phase-detection autofocus (such as Fujifilm's own X-T2) for a hybrid system that combines the precision of contrast-detect AF with the speed of phase-detect, the GFX 50S opts solely for contrast-detect.
This isn't too much of a surprise – the GFX 50S isn't intended to be an action camera, rather a more considered photographic tool for landscape and studio work.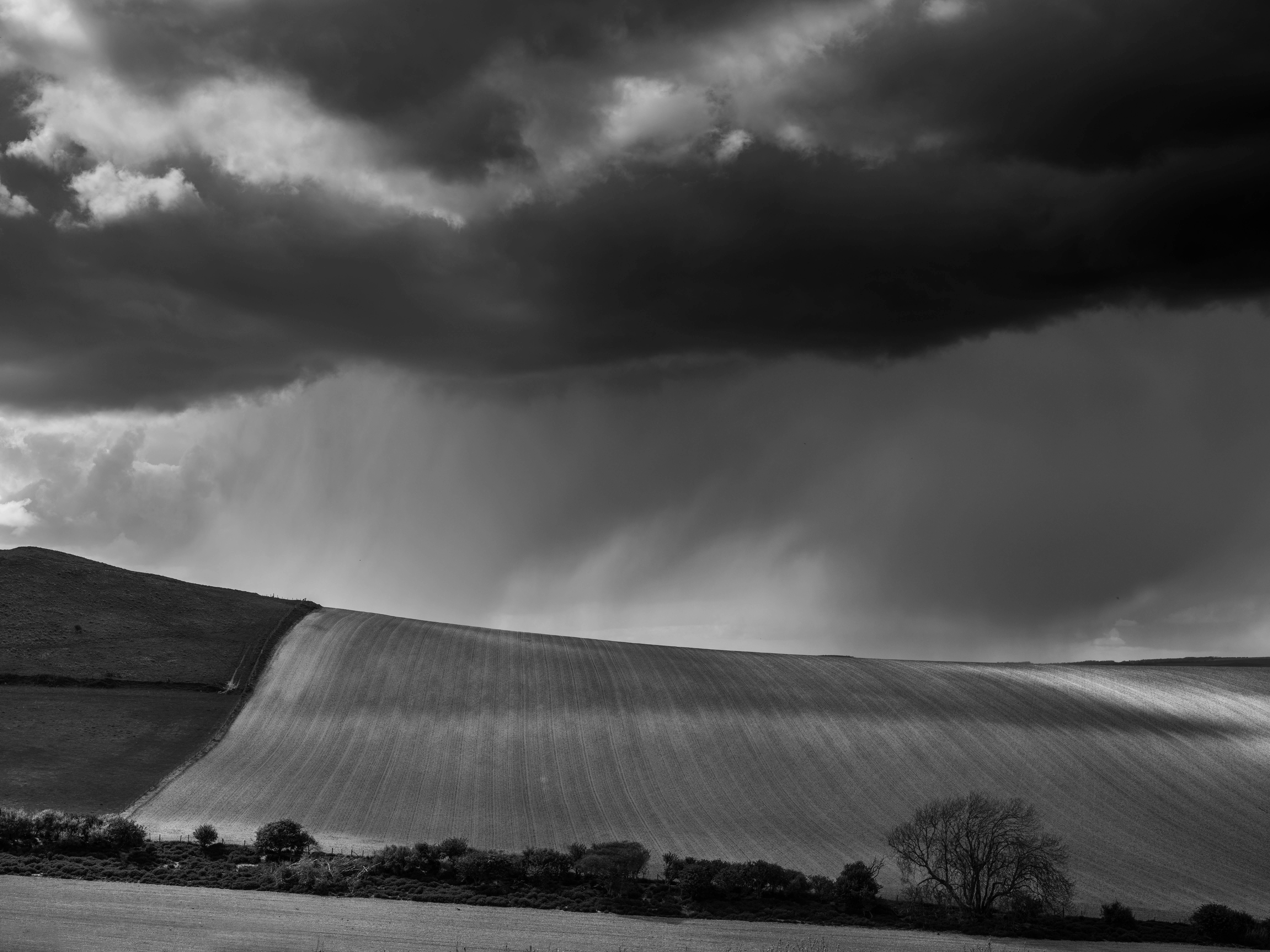 You're still well catered for when it comes to coverage across the frame, with the GFX 50S's AF system offering a default layout of 13 x 9 (117 AF points) that can be expanded further to a grid of 25 x 17 (425 points). The AF frame size can also be changed, with six sizes available ranging from a single point to 25, depending on how precise you need to be with your focusing.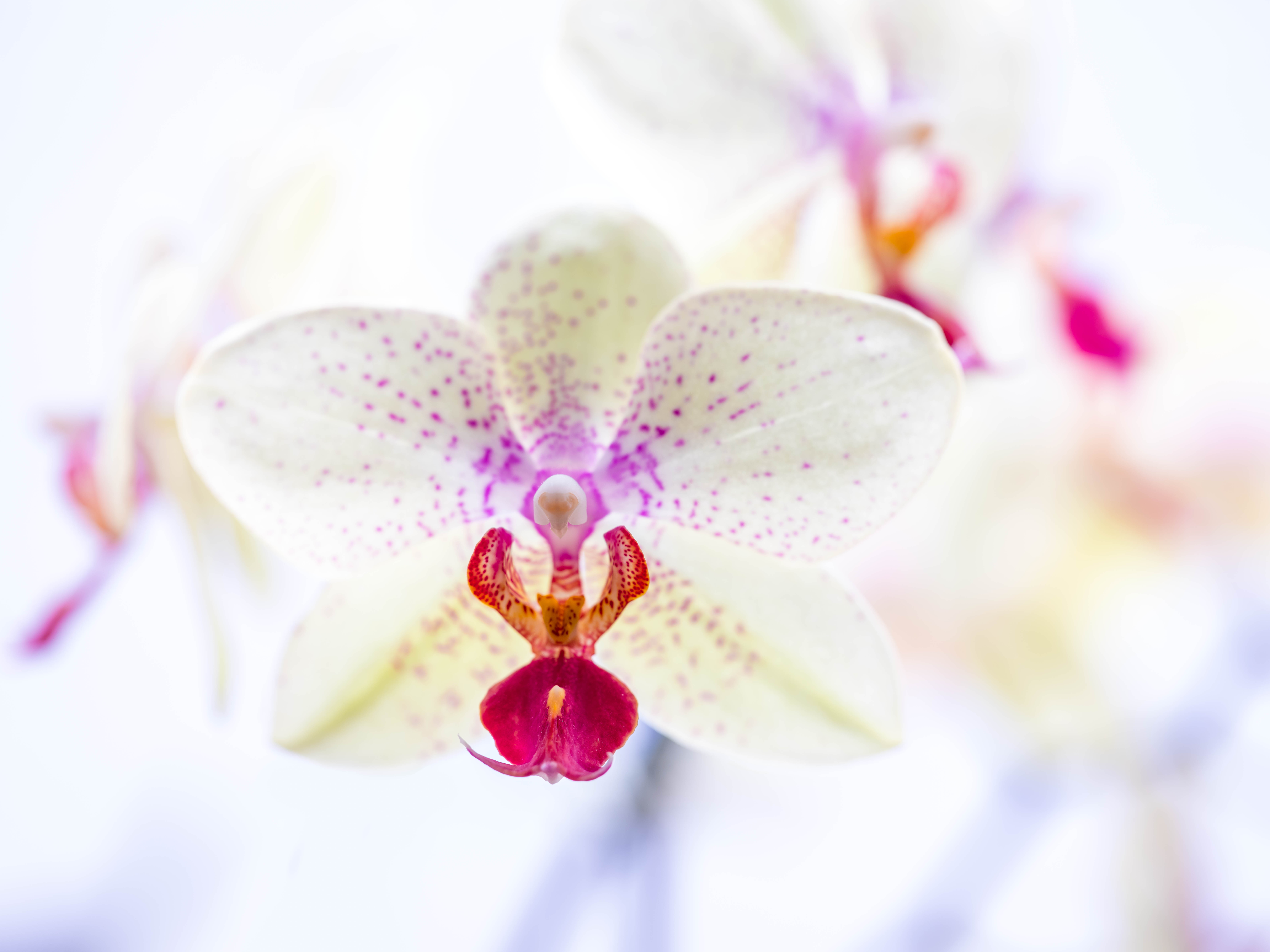 We found the AF performance to be very solid (though not lighting fast), locking on very accurately, particularly with the 120mm lens, but the system does begin to struggle under poor light, and will hunt as it attempts to acquire focus. This would all seem a bit pedestrian in a DSLR or smaller mirrorless camera, but if you're prepared to be a bit patient with the GFX 50S, thanks to the results it's capable of, you'll get very precise autofocus acquisition.
Performance
3fps burst shooting
Touchscreen integration works well
400-shot battery life
With the power switch located round the shutter release, a flick to the 'on' position sees the camera ready to shoot in about a second.
As we've mentioned, the GFX 50S isn't a camera designed for those looking for out-and-out speed, so the tentative 3fps burst shooting speed is hardly a surprise – it's perhaps fast enough to capture a subtle change of expression in a portrait if you hold the shutter down, but not to rattle off a burst of frames to capture anything more dynamic.
While not fast, the GFX 50S handles its large 117MB files with ease, happily writing files to the card without any slow-down in performance.
Lift the camera up to your eye and the large and bright viewfinder is a joy; the clarity and color rendition are impressive, while the magnification allows you to immerse yourself in the scene. The quality rear tilt-angle touchscreen lets you really appreciate the detail delivered by the GFX 50S's sensor when you double tap the screen to zoom to 100%, while the ability to not only angle the display out and downwards when shooting in landscape orientation, but to also do the same when it's turned 90-degrees is a welcome bonus.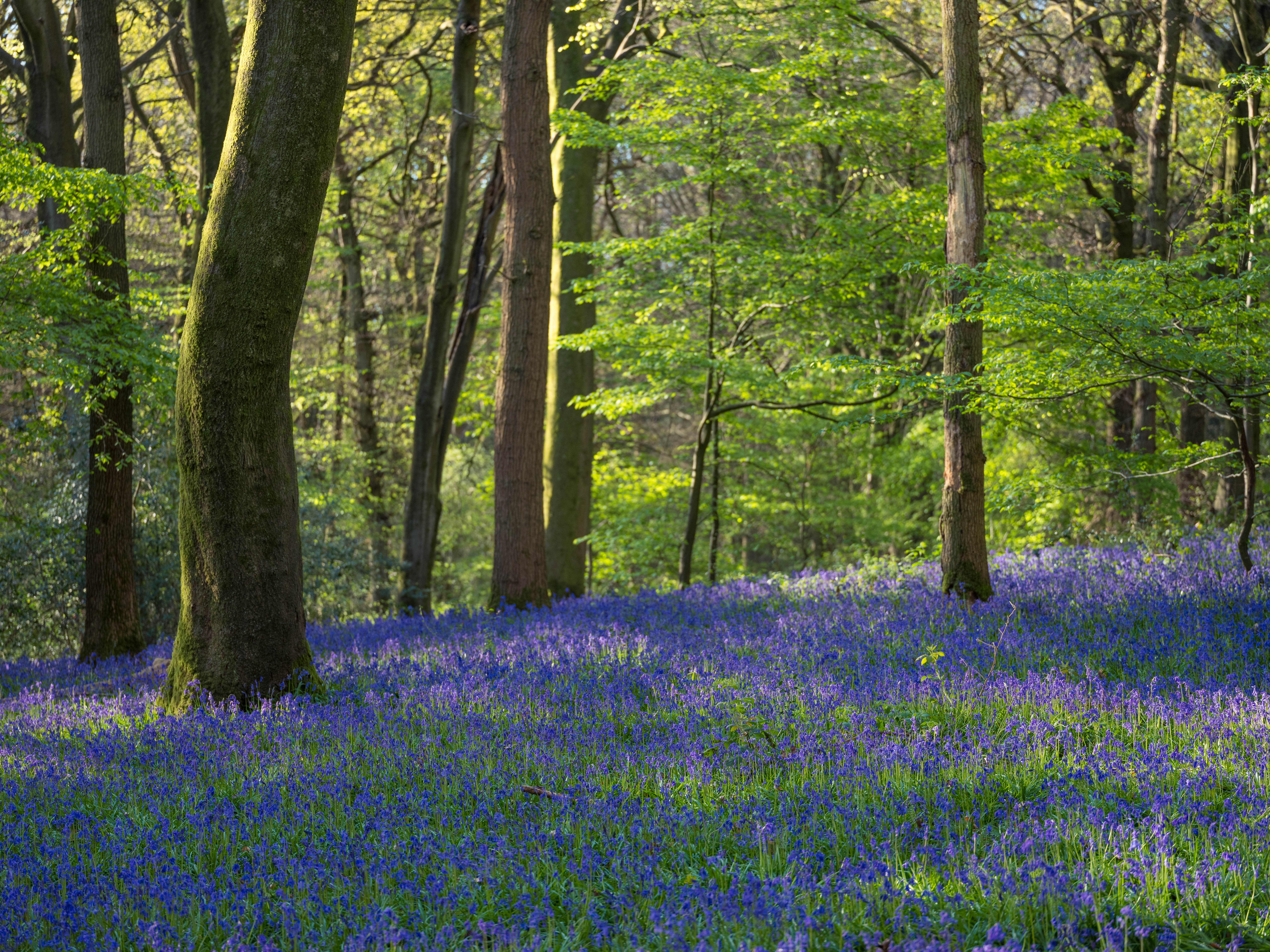 The TTL 256-zone metering system has been seen in numerous Fujifilm mirrorless cameras in the past, and it performs very well here, especially when challenged by high-contrast scenes, where if anything it tended to underexpose slightly. The chunky battery that slots into the side of the GFX 50S has a solid (for a mirrorless camera at least) 400-shot battery life, although pros working with the camera day-in, day-out will want to invest in a couple of spares.
Image quality
ISO100-12,800, expandable to 50-102,400
Number of recorded pixels: 8256 x 6192
15 film simulation modes
This is where the GFX 50S really shines. The level of detail on offer from the 51MP sensor is simply breathtaking, with the large, densely populated sensor working in harmony with the razor-sharp Fujinon lenses.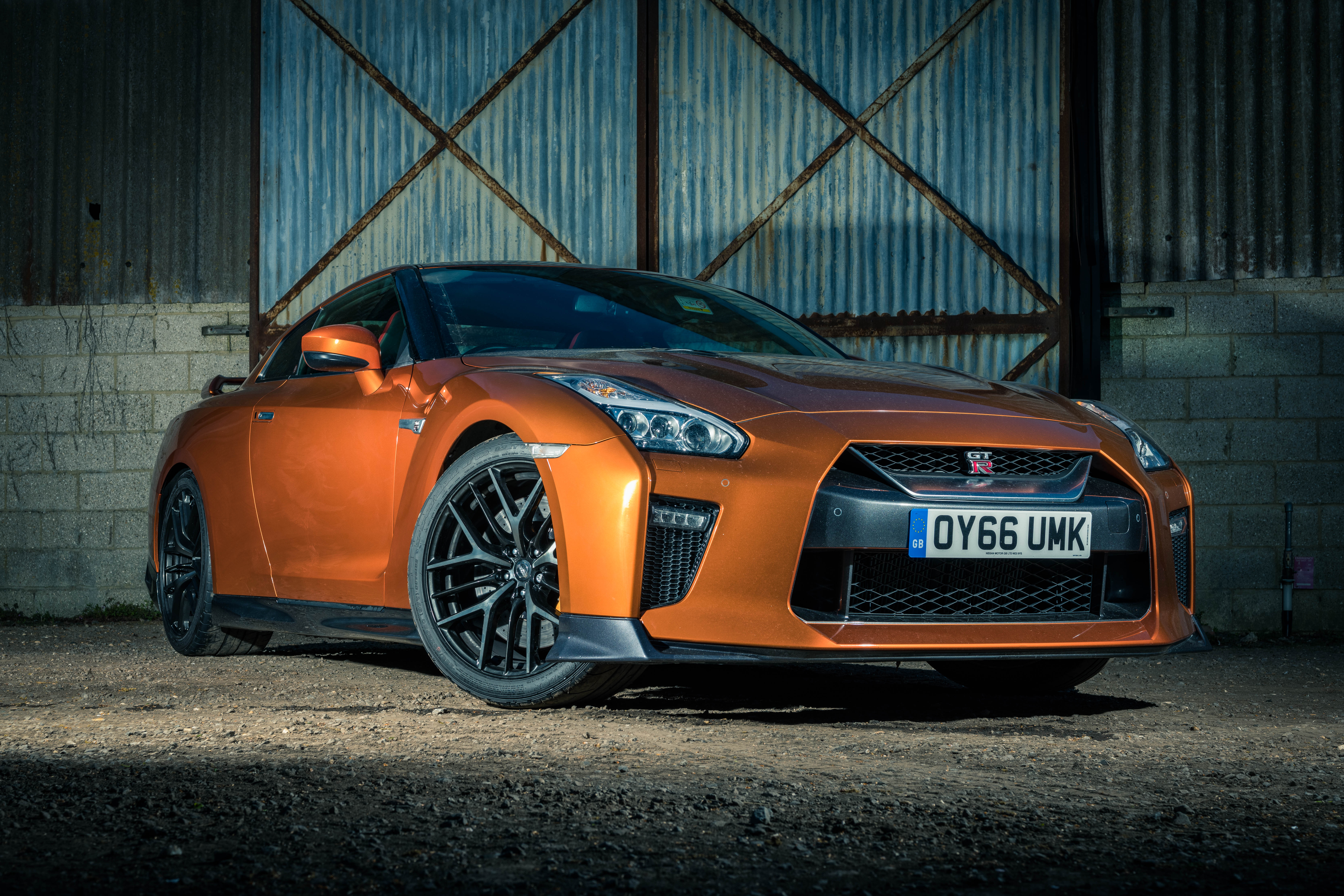 That level of detail would be impressive in itself, but it's when you factor in the breadth of the camera's dynamic range that you can appreciate just how good the sensor is.
Bring an underexposed raw file into Lightroom, and the latitude you have to play with is mind-blowing. It's easily possible to recover good chunks of shadow detail, and, where necessary, highlight detail, without the image being compromised.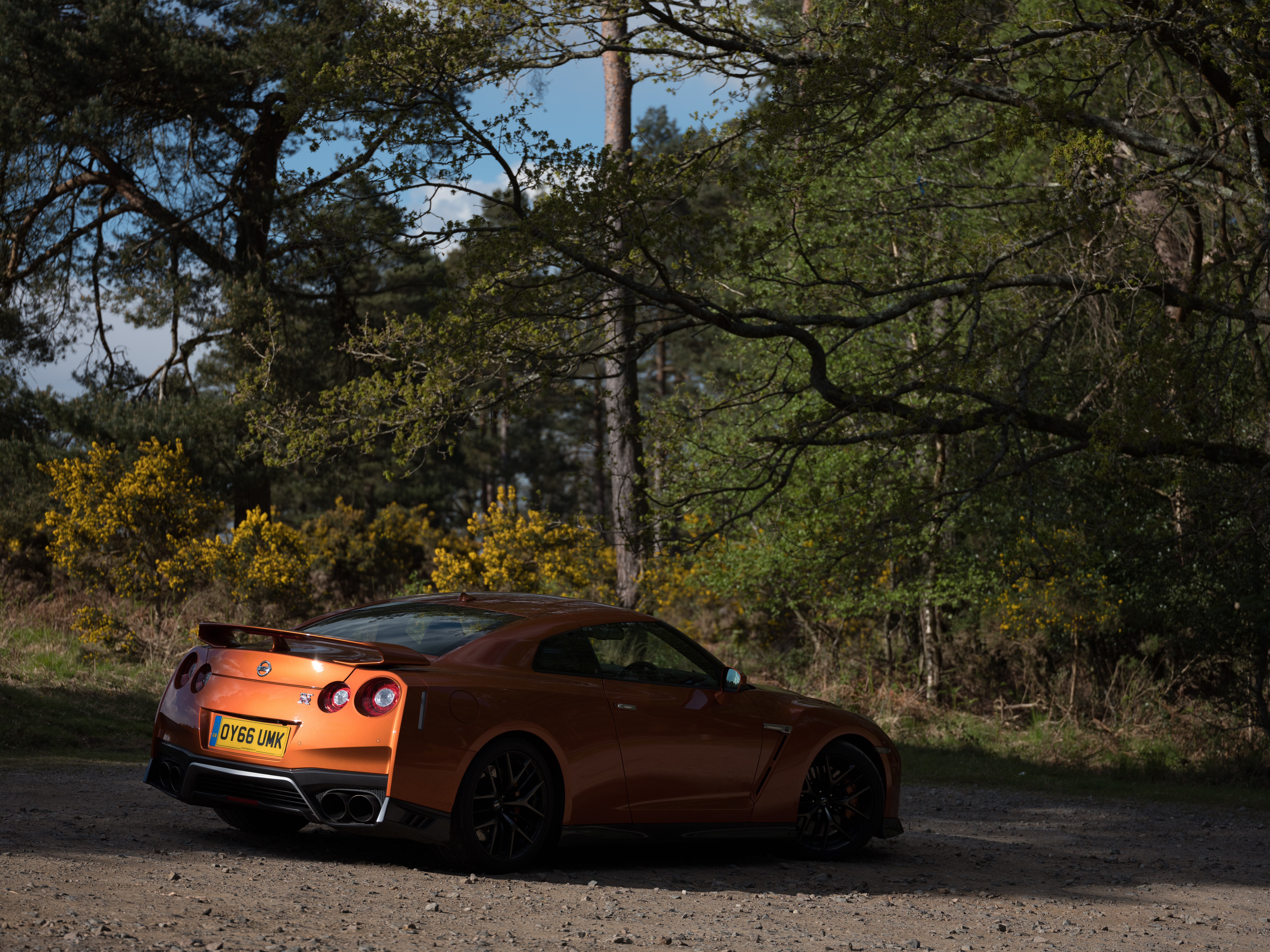 The GFX 50S's ISO performance is really strong as well, with images at the base ISOs looking incredibly clean.
At ISO1600 there's a hint of luminance (grain-like) noise starting to appear, but you'll have to be looking at images very closely to notice it. Even results at ISO6400 stand up very well – there's slightly more pronounced luminance noise, but it's still very well controlled and looks very organic. Saturation does suffer a touch, but there's not much sign of chroma (color) noise, and we'd quite happily shoot at this sensitivity if it was necessary.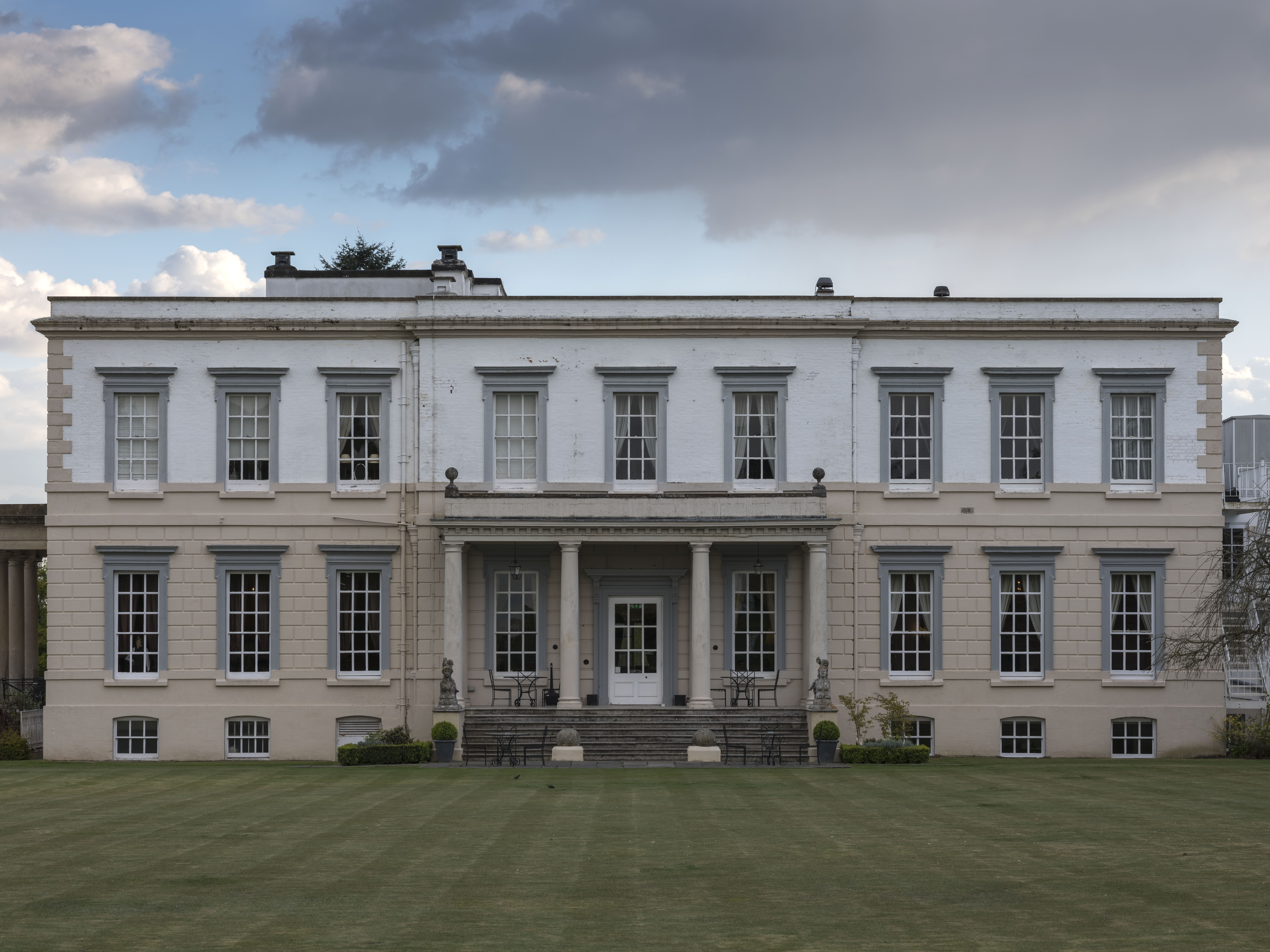 Verdict
As we've mentioned, the Fujifilm GFX 50S isn't a camera designed for speed junkies looking for out-and-out performance, so it's unreasonable to expect it to excel in those areas compared to its smaller-sensor rivals. However, while the GFX 50S's AF performance is very accurate, it could be faster and hunt less – it could be that Fujifilm addresses this via a firmware update.
What firmware updates won't fix, though, are our other two bugbears – the awkward positioning of the exposure compensation control and the limiting flash sync speed of just 1/125 sec. We're sure some portrait photographers will find this latter point frustrating if shooting outdoors.
Those niggles aside, we have to say we're quite smitten with the GFX 50S. If you're prepared to shoot in the slightly more methodical manor that the camera demands, you'll be rewarded with some truly stunning results. Image quality is the best we've seen (unless you're willing to stump up house-deposit levels of cash for a 100MP medium format camera), with shot-saving dynamic range and impressive ISO performance, while the handling and (the majority of) the controls make the GFX 50S a pleasure to shoot with.
The hefty price will mean that many might be better off sticking with their full-frame camera, but for those wanting the ultimate in image quality, the GFX 50S is the camera to pick.
Competition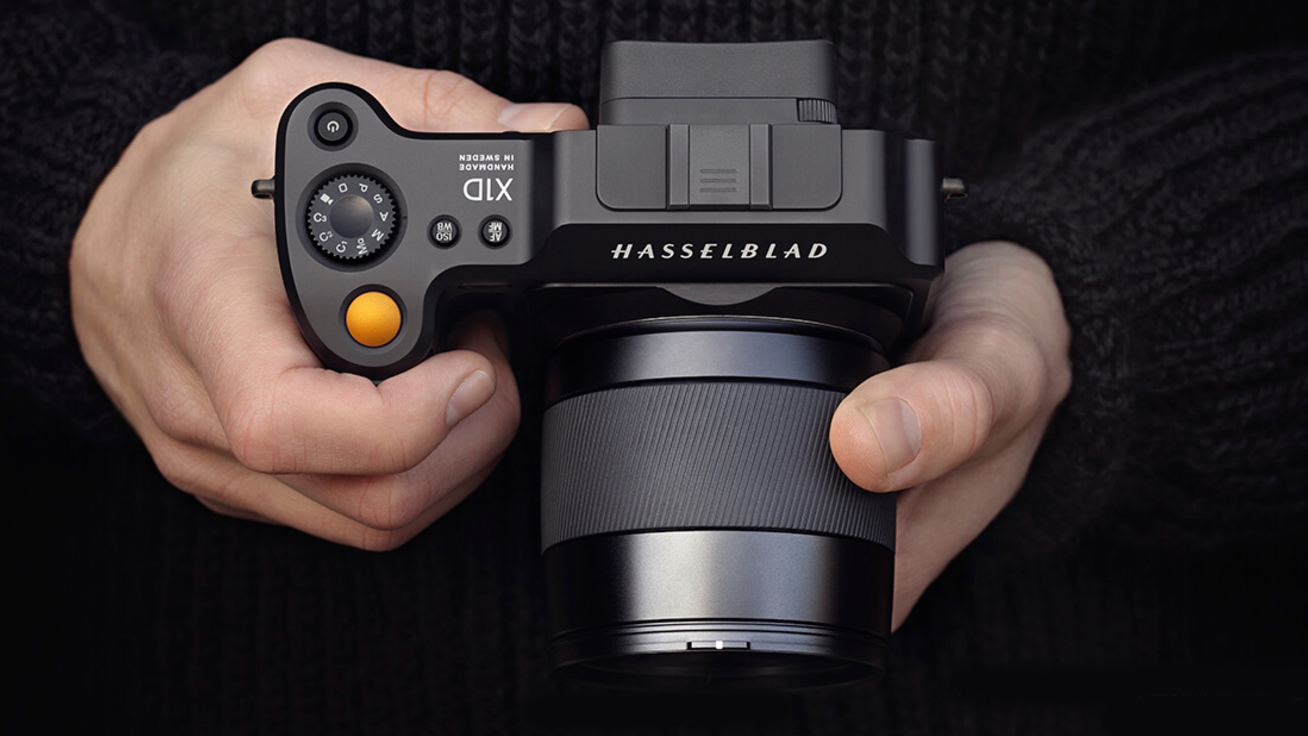 Hasselblad X1D
The Hasselblad X1D is the GFX 50S's closest rival, and its clean, minimal design is matched by an equally clear and efficient set of controls, and the two lenses we tested are just as impressive as the camera. It's more compact than the GFX 50S, and can flash sync at any shutter speed.
Read the full review: Hasselblad X1D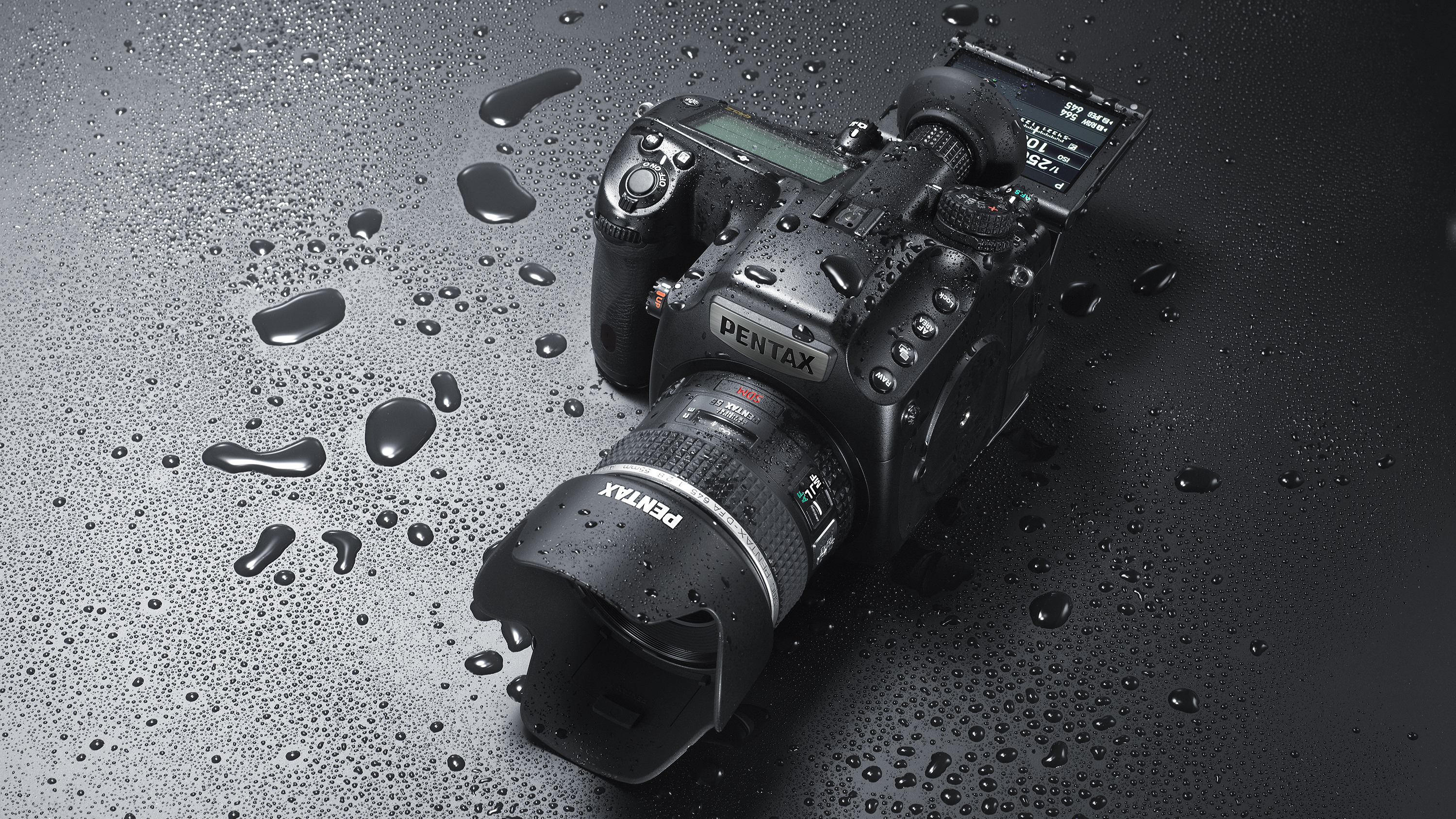 Pentax 645Z
We loved the medium format Pentax 645Z for its DSLR-style handling and controls, but prices have stayed high since launch, and the arrival of the GFX 50S and X1D, two strong, premium-quality rivals, make the 645Z a hard camera to recommend right now.
Read the full review: Pentax 645Z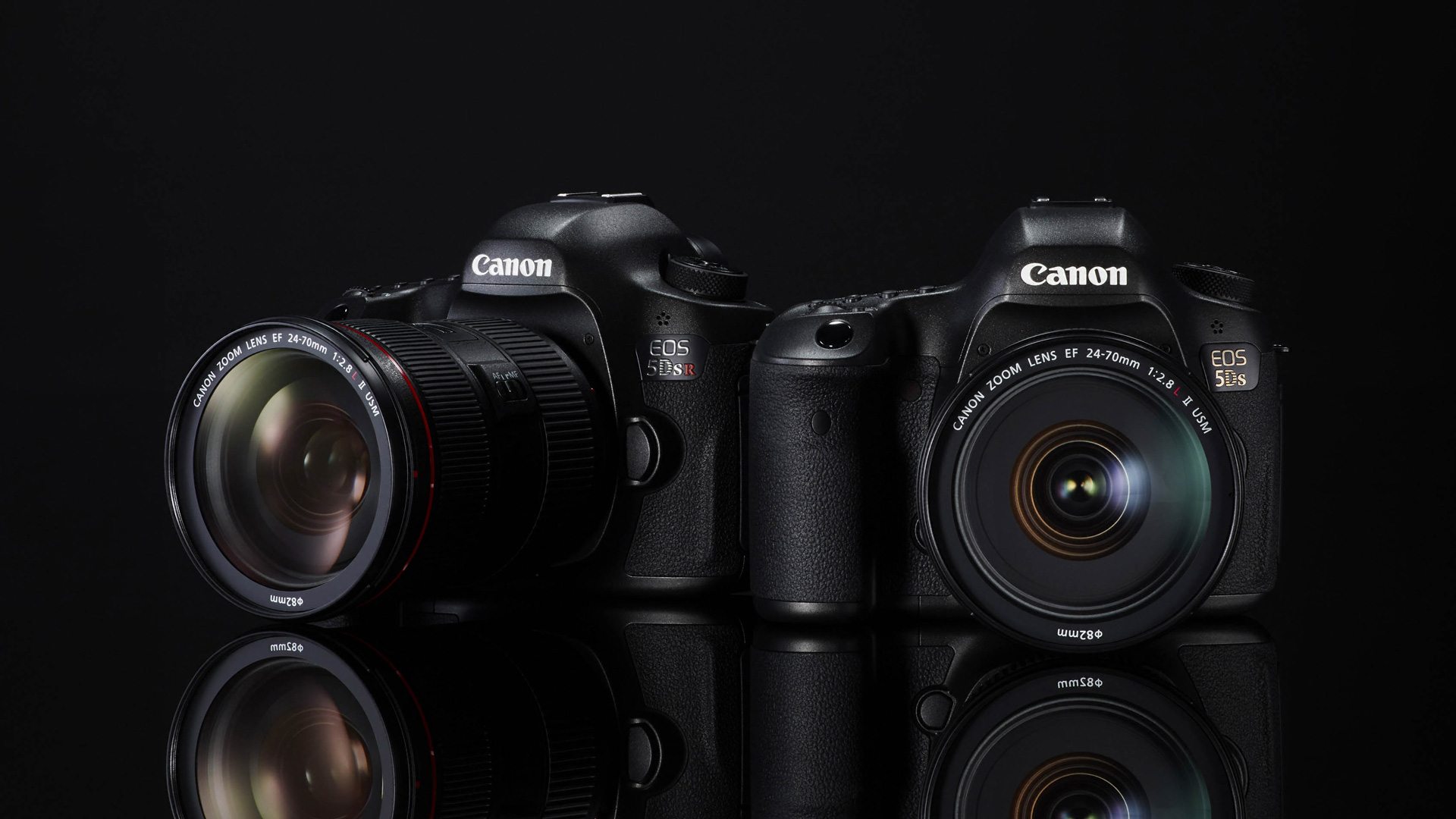 Canon EOS 5DS
The EOS 5DS packs in an incredible 50MP full-frame sensor – we haven't seen anything like this in a DSLR before, and the blend of resolution, size and affordability looks unlikely to be beaten any time soon. It's a terrific camera, but it also demands the very best lenses.
Read the full review: Canon EOS 5DS