Dragon's Den Duo 'Frame Again' discuss business, photography and Peter Jones' horrible tie
Editor - 8th September 2014
Posted on
Categories

Features, Interviews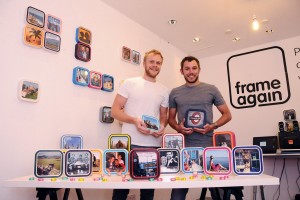 Young, sparky entrepreneurs Jake Hayman and Joe Kenyon started their business Frame Again to fill what they saw as a clear gap in the market: the fact that no website offered a way to print, customise and frame an Instagram snap in one go. So in true entrepreneurial spirit, they did it themselves.
A few weeks ago, the duo were watched by over two million people on BBC's Dragon's Den, where they pitched for £60,000 worth of investment – and were ultimately rejected by all Dragons. However, in a completely unexpected and never-seen-before move, Peter Jones offered both men jobs at Jessops. But, as the whole nation waited with baited breath, the pair made the decision to turn the offer down and stick to their guns. Now it seems that their dedication to Frame Again could pay off: within 24 hours of launching a page on a crowd-funding website, the partners reached their £20,000 target and have since seen it more than double. In a recent blog post on the subject, Jake wrote: "If I had to pick between the collective voice, buying power and wisdom of the Crowd against the individual track record of any given Dragon, I'd take the former every time."
Here, we talk to co-founder Joe about his experience on the show, and why he's adamant Frame Again will get people printing and framing their photos again – even without the Jessops CEO's backing.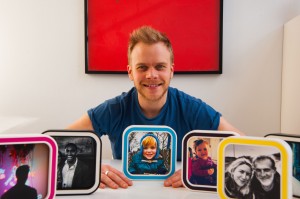 First of all – how's the business going? 
"It's going well! We've only been trading for eight months so it's still a very dynamic existence for us, with sales starting off OK, dipping very low and then being brought back up by the Den and back down again. We haven't had a period of stability yet. Which is fun, but also means we're taking it week to week."
Is there really a demand for the service you offer?
"There is a demand for the service. We carried out research with YouGov by presenting our product and service offering to potential customers and had great feedback which proved that people want more framed photos, but that there aren't brands to engage with, nor the full printing, framing and delivery service from one site. Combine that with the lack of innovative or cool products which they want in their homes and offices.
"When we have managed to market what we do the results have been fantastic, none more so than our pop-up in Camden where we were printing and framing straight from people's phones in five minutes. We were selling out and it was the most fun I've ever had at work."
Has your business had more attention now you've been on telly? 
"The spike in actual traffic to the website was huge and we quickly had trebled our total sales up until that point. We also saw success with turning the interest into crowdfunding. Today, after a couple of weeks, it has calmed right down and we're back trying to get the Frame Again brand out there. People of Brighton, be ready for our next pop-up!"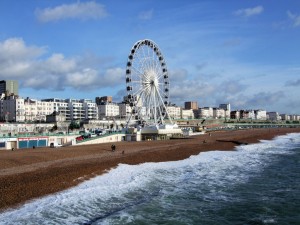 Why did you decide to go on the show?
"I applied to go on the show on the advice of my barber. Which is as good a reason as any to do anything. This was almost a year ago now. I don't think Jake (my business partner) knows that. Hi, Jake."
What was it like pitching your business to all those scary business people?
"They only look scary. And act scary. OK they're terrifying. It's thrilling and exhilarating opening your ideas up for public criticism. But you're also opening up for praise and affirmation. I think we got enough of everything."
What did you learn from it?
"My business partner, Jake, learned never again to forget shoes to an important presentation. I learnt that the greatest nerves can be overcome by extracting rationality from the small parts of a situation (Peter's horrible tie, the orange lighting)."
Why did you turn down Peter Jones' offer of a job at Jessops? Do you ever wonder 'what might have been', or do you still stand by your decision?
"The offer from Peter was incredibly flattering and a big compliment but, ultimately, not what we are trying to achieve at Frame Again. And we've only just begun.
"Whilst Jessops is a great company with a loyal customer base and strong achievements, there is something missing from the photo framing market, and what we're doing is starting to fill that need that customers have. The ones who want to be able to get their photos printed, framed and delivered in a couple of taps on their phone or iPad or iPhone. Frame Again customers will never have to queue again. So good luck to Peter and Jessops, and good luck to us as well."

What's it like starting a brand new business in the photographic industry, which has seen some huge changes over the past few years?
"There are more photos taken now than ever before, and more photos being seen and shared than in all of history. So when people talk about trouble in the photographic industry it makes me think about the music business, which I have worked in for many years. If more music is being heard and exposed to a bigger audience than anyone could have imagined, it means the industry itself, as an art, is in good shape. Great shape. So I feel that way about photography as an art and a hobby; it's never been more fun, available and productive. Consumers love photography more than ever and love seeing things made with their photos."
How does the Frame Again concept encourage the young 'social media/smartphone generation' to get back into printing and framing their photos? 
"We asked people if they wanted more of their framed photos at home and on their desk and 27% of people aged 18 to 35 said they did. So the hard work is showing them how easy the Frame Again service is to print + frame, and how cool our frames look in a row on your shelves or next to your phone on your desk at the office. We make the process of getting your photo printed, famed and delivered an easy extension of their usual shopping habits so hopefully it will be a natural next step for them when wanting a personalised present or special, affordable gift."
Can you talk me through the frames themselves? How do they work?
"The concept for the frame came from my brother who builds furniture. I needed a square frame that I didn't hate, so asked him to build me one. We took this original idea to product designers at Luma to develop into a consumer product which is when we introduced the colour range. From there we went through several stages of prototyping via 3D printing until we were happy.
"From there the frames were manufactured in China. Over at Frame Again Towers we print the photos and assemble the frames on site. And yes, customers can swap the photos, it only takes a second!
"One big step we're making moving forward is bringing all manufacturing back to the UK for our next design."
Some of the advice given by the dragons was to expand your product range. What designs are you working on for next year?
"It's a secret! We're working some awesome new frames and developing our product range is a big part of our plan to get everyone printing and framing their photos again."
What else is planned for the future?
"I think we have a lot to offer the industry. Our products and services will compliment existing ones, the same way there is still a place for high street stores. We would love to see our site as a destination for printing and framing which caters to many tastes, still delivering in 48 hours. Our mobile App is under development as we speak!"
To find out more about Frame Again, you can visit the Frame Again site