Booq introduces Python mirrorless
Editor - 7th February 2014
Posted on
Categories
Off The Press
Booq has unveiled a new addition to its Python collection for photographers: the Python mirrorless. Designed to hold a mirrorless camera with a large lens or a compact DSLR with a small lense, the Python mirrorless keeps photography gear from knocks and bumps while the water-resistant 1680 denier ballistic nylon protects against the elements.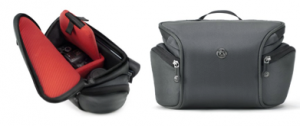 Densely padded interior compartments can store an iPad mini or similar size tablet, while a removable padded divider allows photographers to organise a lens, charger, or any other equipment at the bottom of the bag. A quick access zipper pocket on the top of the bag is designed to store a phone. The bag is equipped with a seatbelt style shoulder strap to add maximum comfort without compromising style.
The Booq Python mirrorless has optimised storage with exterior pockets on the back, and sides. Users can hold papers, flashcards, cables, back-up batteries or lense covers without having to open any compartments. A removable key fob keeps your keys safe from getting lost and easily accessible.
"A photographer's main objective is to have the necessary gear to get the perfect shot without being weighed down," says Booq's Lead Designer, S. Kema Subsomboon. "We designed the Python mirrorless to be practical and compact, so that today's digital age photographer can have their camera, mobile phone, tablet and other necessities neatly tucked away and at a moment's notice, making their job or hobby easier and more enjoyable."
All Booq bags come tagged with a Terralinq serial number. Once registered, the Booq Terralinq service may help reunite users with their lost bag.