Behind Great Images…
Editor - 25th November 2013
Posted on
Categories
Off The Press
Being able to change backdrop quickly, easily and without disturbing he shoot would be considered an asset to many studio photographers. Now on the market for them is the Rotor Roller, a new motorised system for supporting photography background rolls in fixed studio installations that has just been launched by Creativity Backgrounds. It can be fixed to the wall or with mounted brackets or simply attached to background support stands using clamp brackets.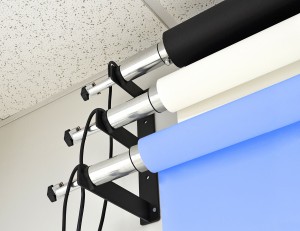 Mobile photographers can also benefit from the speed and convenience of using the Creativity Backgrounds Rotor Roller, this is especially useful with the full-width rolls. Event photographers will get a huge advantage from using the automated system. You can set up different colours before the event and change swiftly as the night progresses, flipping between white and greenscreen.
The Rotor Roller system allows the photographer to select the colours they need before the shoot and inject an instant level of creativity into their portrait session especially of value to "Bump-to-Baby" and portrait photographers.
Prices are £120 + vat for Single bar wall or ceiling mounted Motorised Rotor Roller backgrounds support set for photography and video studios, or £249.00 + vat for Two bar wall or ceiling mounted Motorised Rotor Roller.
Behind Great Images