Arena Imaging land Olympic commission.
Editor - 19th February 2014
Posted on
Categories
Off The Press
Just as Jenny Jones landed the first ever Winter Olympic medal on snow for Great Britain, Arena Imaging (a trading style of One Vision imaging) landed their second Olympic commission.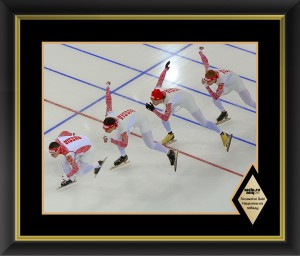 Following the huge success of the London Olympics and Arena Imaging's part in providing the UK's retailers with framed products, Innovative Sports Ltd, the "Official Memorabilia" licensee for the Sochi 2014 Games had no problem in selecting Midlands based Arena Imaging once again despite the 2000 mile round trip.
Todd Brunel, Director of Innovative Sports said "The overall quality of design, print and framing innovation from Arena Imaging was world class and we knew we could trust them to uphold the strict standards commanded by the Organising Committee"  Arena Imaging will be manufacturing framed memorabilia of Russia's Winter Olympians and magnificent venues.