Are you ready for Black Friday?
Editor - 13th November 2014
Posted on
Categories
Off The Press
Online orders are set to peak on Friday 28 November
It seems the UK has adopted the all-American tradition of Black Friday: where the post-thanksgiving period meets the frantic Christmas shopping season.
Traditionally on Black Friday, retailers open up early and offer serious promotions to kick-start the festive period. This often results in chaos – crowds ramming into shops and people surging over one another to get their hands on the best deals.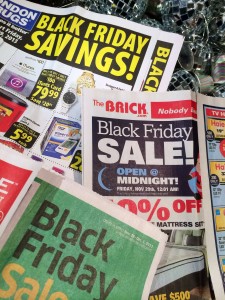 In the past some unfortunate US citizens have even been injured and killed in the fight for bargains.
Black Friday was first bought to Britain in 2010 by Amazon, and it has since spread as more UK retailers have jumped on the bandwagon. This year, Black Friday (November 28) is set to be the 'biggest online shopping day in history' according to analysts, with Amazon, Asda, John Lewis and Sainsburys expected to launch a wave of deals for UK shoppers.
Last year Asda, which is owned by America's biggest retailer Walmart, ran flash promotions on products on a first-come-first-serve basis, with shoppers rushing in to get their hands on a £49 32″ LED TV, or a Black & Decker drill for £39.
Christopher North, managing director of Amazon.co.uk, said: "Black Friday took an incredible leap forward in 2013 with so many more customers taking advantage of the great deals on that day, resulting in sales of over 4m items for the very first time in our history.
"This year, we are offering more deals and savings than ever before and we are expecting record numbers to benefit from Black Friday Deals Week."
Last year Amazon deals included Canon cameras. So far, the retailer has kept quiet about what we can expect for this year's promotions.
Will you be offering Black Friday promotions this year? Let us know your thoughts by commenting below. Your comments may be included in the next issue of Pixel.